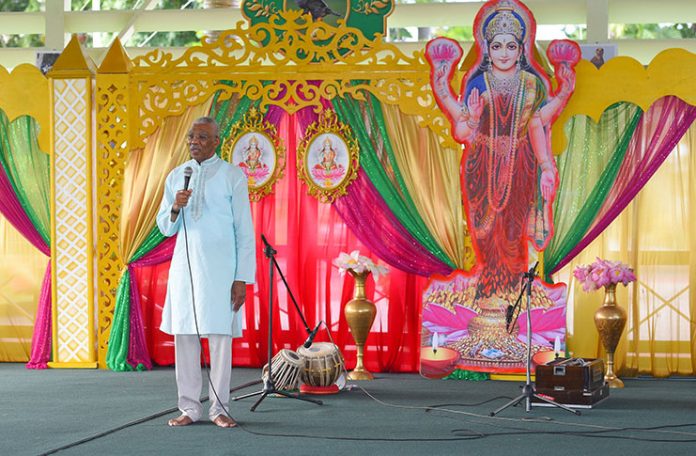 –President announces at venue's first ever Diwali Utsav
By Alexis Rodney
PRESIDENT David Granger on Wednesday committed to making State House a cultural mecca of sorts for Guyanese of all ethnicities.
He also promised that the event held on the lawns there, under what is called a Baridi Benab, will become an annual feature.
Caught up no doubt in the spirit of the season, this being the Festival of Lights and the triumph of good over evil, the president made the foregoing announcements while hosting members of the Hindu community at his official residence for what has been touted as the first ever Diwali Utsav to be held there.
For the grand occasion, the benab was transformed into a temple-like setting as special invitees, among them ministers of the government and members of the diplomatic corps, sat around and were treated to special performances from various groups.
According to President Granger, the story of Ram and Seeta, which many Guyanese had the opportunity to witness for the first time Tuesday evening, really demystifies the religious precepts, and draws the country closer together.
The event at reference was a special Diwali cultural programme hosted by the Ministry of Social Cohesion on Main Street.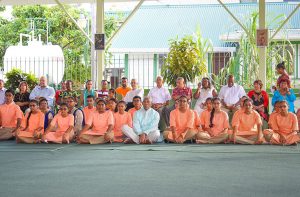 Said the President: "Diwali is particularly important for us, because it is the Festival of Lights. It is the festival which symbolises the victory of light over darkness, of knowledge over ignorance, of togetherness over divisiveness and is a lesson that all Guyanese could learn that it is not only a Hindu thing, it is a national thing."
Noting that anything which brings Guyanese closer together is a good thing, the president said that every region across Guyana should hold Diwali observances, as it is a national celebration.
"It is no longer a colloquial or geographical observance," he said. "Every Guyanese needs to learn the lessons of coming together and overcoming poverty, overcoming illiteracy and ignorance and divisiveness."
The historian in him coming to the fore, President Granger recalled that back when Guyana was a colony, the celebration of religious events like Diwali was prohibited.
He sees the opportunity to be part of the grandeur of the occasion as a gift of independence, which is why he feels that the holiday must be used to build respect and understanding among Guyanese of all races and creeds.
Meanwhile, Swami Aksharanandan of the Saraswati Vidya Niketan Secondary School weighed in on the continuous feud over the date for Diwali celebration.
"It is only one single organisation in this entire hemisphere that insists that Diwali must be done at a certain time," the Swami said, adding:
"This kind of stupidity can only be matched by the amount of disdain that these people have for the very people of whom they claim to care about.
"What else can it be, if they know what the truth is and are confident of what the truth is. But I am absolutely sure they know what the right thing is."
Over the next five days, Hindus will be celebrating the remainder of the Diwali festival.