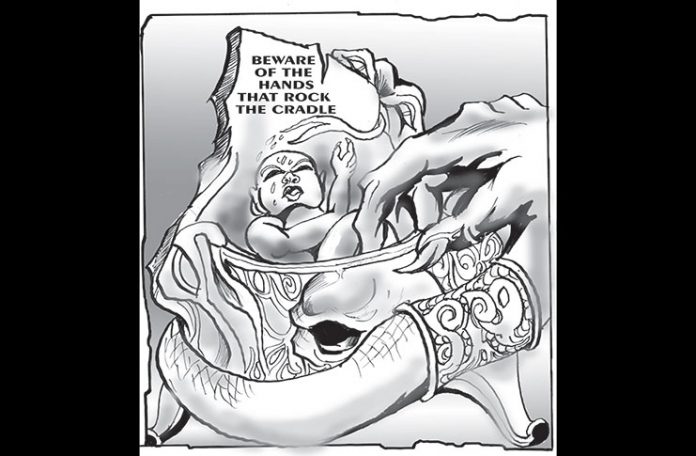 IT IS obvious that not everyone will fit into their memory with the passionate intention to address the troubling details of six months ago, but would instead only shout aloud publicly if they feel that there will be no challenge of force to be defied.
They wait to exert voice only in support of a popular issue that, logically, everyone should be on board with.
The recent murder of two elderly church women is definitely one such issue. The other is the kidnap, sodomy and murder of another young man less than two weeks ago. I say another because that young man was not the first; nor are the two elderly women unique tragedies, as similar have occurred before.
Perhaps one should take solace in the fact that enough has tipped the scales, and the social conscience is summoned from the prisons of the custom of 'look the other safe way', so long prevalent in the 'conscience' of Guyanese.
Vicious, heinous and macabre crimes have been committed by and against both young and elderly citizens with a frequency never before seen in our history over the past 15 years.
Now citizens are willing to storm the bastion of murderous acts which we can only describe as 'evil' with petitions to 'hang', a sentiment in keeping with the mood to halt this descent.
But wisdom must temper the rush of the mob; the mob must stand before its conscience and intellect, and not miss the mood in the pictures of our young as they imitate North American gang signs in their self portraits, exalting machismo and the façade of the 'bad boy' persona.
280
DEATH SQUADS AND DRIVE-BYS
And why not? Most of the lawbreakers are aged 15 to 30, as the world of their childhood was saturated by drive-by killings, police death squads entering their homes at times, killing relatives in their presence, or assaulting anyone around; or dragging off a male relative, never to be seen or heard of again. Wouldn't it be natural, then, that a generation would evolve outside of the normal that we know. This was the Guyana of a few years ago; of a nation transformed and mutated into a culture of lawlessness, where the principles of decency, law, and respect for human life was aborted.
The perpetrators of these current acts must be brought to justice and punished accordingly, but we must never lose consciousness of the administrative actors who ruled this country yesterday, and created the stage for this grotesque mutation in the national psyche.
Most citizens over 40 can recall shocking events, but never with such frequency or boldness. I was a child in 1969 when fear griped this country, and blame across ethnic lines was thrown because Guyana was experiencing its first and only recorded exploits of a serial killer, that of Harry Nauth Beharry.
He molested seven young boys and murdered them. He was charged for eight murders, but denied the killing of the one female on the list.
It was said that on April 2, 1970, he committed suicide in his cell. But a source denied that, casting the blame for that act instead on a staff member that years later was promoted to administrate the Timehri juvenile centre. That incident was gaff among adults for years after.
276
NATURE'S DEVIANTS
Though nature produces deviants at all seasons, their shocking activities were less frequent in manifestation. One other deviant of that nature can be cited: A remigrant or deportee who lived in South in the 90s. To him circumstantial evidence points the disappearance of several young women. But the political period from 1996 to 2010 requires special attention, as its pale cultural creed is directly relevant to our time.
Human life was cheapened to such a callous level that the highest authority could instruct his phantom death squad thralls "Don't throw the bodies all over the place like that." A portion of a generation grew up in the twisted but evident creed of that period that they need not be schooled in academics or as tradesmen, but instead be prepared to serve in the various morel areas that the politically-connected nouveau riche needed expendable human resources to expedite.
One of the worse errors of the last administration was to destroy the Guyana National Service. That institution was essential to the holistic development of many underprivileged youth who needed self-discipline and life-skills training. We are not a cash-flow wealthy nation, and like all nations, we have to cater for the write-off of genuine mistakes. But calculated damage creation is a factor that must not be allowed to remain unpunished, especially when the damage was inflicted on the human aspect of the nation. Memories with twisted perspectives must not become fossilised into 'the philosophy' of how things are. Those guilty must be made to pay. Ideals are born from references, and the references our youth have of the past 15 to 20 years are criminalised.
Public servants were executed for not compromising their professionalism. Alicia Foster and Trevor Abrams of GGMC are two victims we are aware of to date, the latter through the most significant COI to have ever been held. There's also the alleged attempt to assassinate the President, which outlines the level to which the Police Force itself was criminalised. Thus, with any misguided youth, an irrational spark of the imagination, of hidden wealth of collective pension payments can lead to what happened recently, especially to youth damaged by the elements referred to above. The mutated culture and value system that rocked the cradle for the past two decades has matured. That the official death squads are quieted is sober evidence of redeeming the national nature. That 'Smallie' was arrested and not executed, nor poisoned as 'Biscuit' and Death Squad member, 'Skozorky' was, is evident of change, but it has to go further. The architects of this disturbing legacy must be held accountable.