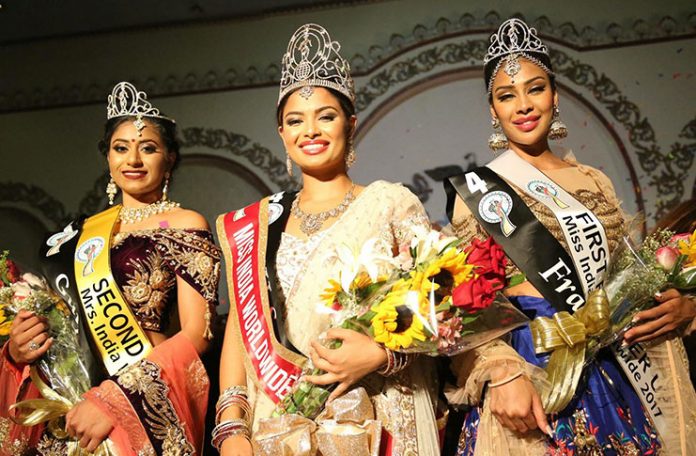 –at Miss India Worldwide 2017
IT'S shaping up to be a good year for Guyanese girls on the pageantry scene, as, just after taking the crown at the Miss Global International Pageant last month, one of our own, Canadian-based Sangeeta Bahadur last Sunday finished third at the Miss India Worldwide Pageant held at the Royal Albert's Palace Hall in New Jersey.
Bahadur also won the 'Miss Congeniality' prize.
After getting past the top-eight round and making it into the Top Five, Bahadur finished second runner-up, with Miss India USA, Madhu Valli, taking the crown, and Miss India France, Stephanie Madavane, finishing as first runner-up.
A return delegate, Madavane had also finished in the Top Five at the Miss India Worldwide Pageant last year.
Madavane had made it into the Top Five last year, despite having been earlier disqualified. She was also not listed among the 2017 delegates on the Miss India Worldwide official page.
Speaking with The Buzz earlier this week, Bahadur said her third-place win was a bittersweet achievement, and that though her hopes were higher, she is excited to have finished in the position she did.
"We all go with the hopes of bringing the crown home, so, in that sense, I am a bit disappointed," she said, adding:
"However, I am very happy and satisfied being the second runner-up, because there were only three placings out of 17 contestants on the day of the pageant, and Guyana was one of them.
"A lot of people came up to me after the pageant and said that I should have placed higher. Nevertheless, I am extremely happy that I have been able to represent my county on an international stage, and make it known that Guyana made it to the Top Three!"
THE EXPERIENCE
Bahadur was also happy for the experience the pageant afforded her.
"The experience was definitely an interesting one, given certain situations and circumstances," she said.
"I enjoyed meeting all of the young women who represented their respective countries, and believe we've formed some great friendships during the week leading up to the grand finale night," the young beauty added.
She also spoke about a cherished experience she had, when she was congratulated by Bollywood choreographer and actor, Sandip Soparrakar.
"After I had presented my dance piece on Talent Night, celebrity choreographer, Sandip Soparrakar came up to me and said how blown away he was by my talent dance, and that he'd never seen anything done quite like that before," she said.
"To have this type of feedback from someone as accomplished as himself, who has choreographed for stars such as Brittany Spears and many Bollywood stars, it was so phenomenal for me as a dancer"
A versed Bharatanatyam dancer herself, Bahadur did her own choreography and mixed the music for it as well.
Going into the competition, National Director, Uma Bux had declared that she expected to see Bahadur at least place in the Top Five.
But having her finish third, she says, is an added bonus. "I am extremely contented and proud with Sangeeta's performance and hard work. I can profoundly say we didn't fall short in any way. We were fully equipped to make a positive impact, which we did," a clearly pleased Bux said.
"This year, I had hoped for nothing less than a placement in the Top Five, and we got something better; we made the final top Three.
"It was a very competitive year; the entire group of contestants were gorgeous, intelligent and very talented. The final five was the strongest I've ever seen in the history of Miss India Worldwide competition."
Now, with the pageant demands finally over, Bahadur will continue her reign as the national queen by participating in various charitable events, and using her success to advocate for causes close to her heart.