…fellow prisoners promise more blows at Lusignan Prison
THREE MEN were on Wednesday remanded to prison for the murders of two elderly women, who were killed during a home invasion at their South Road and Albert Street home recently.
The alleged mastermind Christopher Khan called Imran Khan (25) and his two accomplices Steven Andrews (26) and Phillip Suffrien (23), all residents of Albouystown, appeared before Chief Magistrate Ann McLennan jointly charged with two counts of murder.
Particulars of the two charges state that between October 2 and October 3 at Lot 243 South Road and Albert Street, the trio murdered Constance Fraser, 89 and Phyllis Caesar, 77 during the course of a robbery.
The men were not required to plea to the capital offence and were remanded to prison until October 26.
While making their way from their arraignment the men were attacked and beaten by inmates at the Court's holding lock up and were promised more beatings when taken to the Lusignan Prison.
Meanwhile, Khan's girlfriend was arraigned before City Magistrate Fabayo Azore and charged for receiving stolen money from her boyfriend, which had been taken from the women's home during the invasion.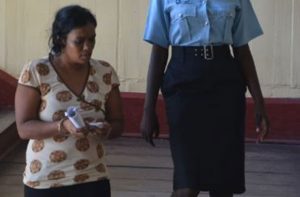 Seeta Khan of Cooper Street, Alboystown denied that between October 1 and October 3, she received the sum of $60,000 from Christopher Khan knowing that the monies belonged to Constance Fraser.
The unrepresented woman denied the charge and told the court that her boyfriend took her on a 'shopping spree for clothes' with the money. The Magistrate released Khan on $25,000 bail and adjourned the matter until October 25.
The two women, both pensioners, were found lying face down in separate bedrooms at their Bourda home on October 3, with their hands and feet bound and mouths gagged. According to a relative, the house was ransacked and quite a few items appeared to be missing.
Reports from the police have since revealed that a door to the upper half of the two-flat building was breached.
Relatives said this was the third time the women had been robbed. One recalled that during the last robbery, the intruders had made off with cellular phones and money. It was also the second time they had been robbed after receiving their monthly pensions.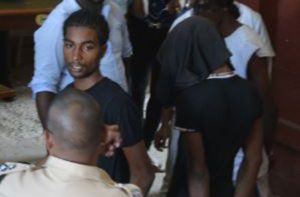 A post-mortems were conducted on the bodies of Fraser and Caesar on Friday by Government Pathologist, Dr. Nehaul Singh, who gave the cause of death as asphyxiation due to suffocation and manual strangulation, compounded by trauma to the head.
Khan was arrested last Sunday by police on the Essequibo Coast while his two other co-accused were apprehended less than two days after the murder. The men reportedly told investigators that Khan was the mastermind behind the crime. They further confessed that after stealing the items and money they escaped on foot, taking the booty to Khan's girlfriend's home in Alboystown.