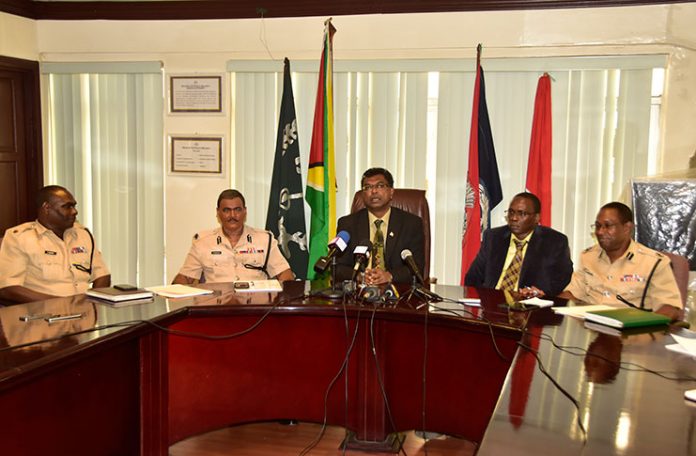 –was 'a matter of pride, dignity' it be done on home turf
THE recapturing of Royden 'Smallie' Williams on Monday night has been described as "a very significant apprehension" by Commissioner of Police (ag) David Ramnarine.
Ramnarine, at a media briefing held in the boardroom of the Ministry of Public Security, disclosed that Williams, who was caught in a public minibus at Weldaad, West Coast Berbice, did not have a support base.
The acting Top Cop said that weeks before his recapture, police intelligence had dismantled Williams's support base, and ever since, persons who had assisted the wanted man, who was sentenced to death for the Bartica Massacre, have been charged.
"We noted that Royden Williams was increasingly desperate a few weeks ago, and we had taken a position, a decisive position some weeks ago that we would dismantle his support," Ramnarine said.
"He had a support; a support base; we took a position to dismantle that base. And in pretty quick time, he was virtually left alone, but he was still in contact with someone else from his support base which we had destroyed," he added.
Those found guilty of assisting Williams were quietly passed through the courts, the police commissioner said. He explained that based on the lack of support, Williams's next move was to leave Guyana.
"The indications were the move to exit, and soon as it became actionable intelligence, we decided with meticulous, methodical planning to inundate the East Coast corridor and 'B' Division with operatives in all fashion," said Ramnarine.
A MATTER OF PRIDE
Ramnarine said that while Guyana could have requested assistance from neighbouring countries, it was a matter of "pride and dignity" that the escapee be recaptured on home soil.
Minister of Public Security, Khemraj Ramjattan, agreed that Williams had not been getting the support he had come to expect from his cronies.
"Even the persons we felt will give him the support blanked him," declared the minister, who assured the media that measures have been put in place to ensure that Williams, whom he described as "extremely dangerous", does not escape again.
"We are putting him into some very serious solitary confinement, I understand," Minister Ramjattan said, adding:
"And knowing how dangerous he is and what he has done, I rather suspect all precautions will be taken, even that which is over and above normal, to ensure that he remains safe.
"I think we will do our best to ensure he remains inside."
Early in September, Uree Varswyck, a former police, was shot dead by law enforcement officers in Amelia's Ward, Linden, Region 10.
According to the police, Varswyck and Williams were seen together in the Central Amelia's Ward area. The duo had opened fire on the Joint Services who returned fire, which resulted in Varswyck, who was dressed in a military vest and boots, being fatally wounded.
A 9mm pistol and 40 live rounds, along with a backpack and cloth bag were found near his body. The bag contained toiletries, medical supplies and a gas mask.
Varswyck was shot in a yard in Central Amelia's Ward, where he and Williams were allegedly hiding out.
JOB WELL DONE
Like Commissioner Ramnarine and Minister Ramjattan, Acting Crime Chief Paul Williams also sang the praises of the Joint Services for a job well done in recapturing Williams. He, too, said that the operation was intelligence-driven and was largely due to dedication and proactiveness.
Williams explained that in accordance with Chapter 68:01 of the Laws of Guyana, the Joint Services used the stop, search and detain mechanism to capture the wanted man. "That is the posture we have sustained throughout, and that is what contributed to our success," Williams said, adding:
"He was in a public transportation, and based on information given, we kept our eyes out."
He could not say, however, when "Smallie" is likely to be charged, but noted that the force is still conducting its investigation and upon conclusion, charges will be laid.
Assistant Commissioner of Police, Operations, Clifton Hicken, though conceding that the police were on high alert across the country, said he was not in a position to divulge the specifics of its operation. "We were proactive in our approach; we managed to succeed, and we apprehended Royden Williams," was all he was prepared to say.
CONTINUED VIGILANCE
Commissioner Ramnarine, in emphasising that Williams's return to police custody was long overdue, quickly pointed out that efforts have been intensified to recapture Paul Goriah, formerly of Grove Squatting Area, East Bank Demerara (EBD) and Cobena Stephens, aka "OJ", both of whom escaped from the Camp Street prison in July.
He reassured the media that while significant emphasis was placed on recapturing Varswyck, a former policeman, and "Smallie", both of whom were deemed notorious criminals, intelligence-gathering on them is till ongoing.
"We have done work before on them; we have had information. We responded, but it didn't come up useful, and we are going to increase, intensify our efforts now, because, largely, we had focused on getting the main fugitive which we now have in custody," Ramnarine said.
He commended the work done by the Joint Services, saying they were always on top of the situation, "ball by ball." Noting further that the confidence, resilience, planning, coordination and execution of the Joint Services is now more than ever at an all-time high, the commissioner said:
"As you would know, 19 have been dealt with. As you know, two chose along a certain path, and they were, in my language, ably assisted.
"We did receive a lot of information, but a lot of it did not prove useful. Persons who have provided information will be dealt with in a confidential manner; they will not, for any reason, be made known."
REWARD
Asked whether those persons who had provided valuable information leading to the recapture of the escapees, in particular Williams, were compensated, Ramnarine said a decision was taken to offer a $10M reward for the recapture of Williams shortly after he had escaped from prison with Varswyck, Stephens and Goriah.
Said he: "We had significant success; a large number were arrested over a week-and-a-half period, with some seven in one night.
"And then several weeks had passed and we were starved of this information, though we sent out lots of posters; we got some info that led to Varswyck's demise."
However, Minister Ramjattan made it clear that based on the opinion of the force, those who had provided credible information leading to the arrest of the escapees will be compensated.
Williams, who was deemed Guyana's "most wanted fugitive", had escaped from lawful custody from the Camp Street Prison on July 9, last, when fire which was allegedly set by prisoners engulfed most of the wooden buildings which had then housed more than 1,000 condemned and remand prisoners.
Williams, who is on death row and also has other matters in the High Court, burned and shot his way out of the Camp Street Prison and had been on the run for three months.