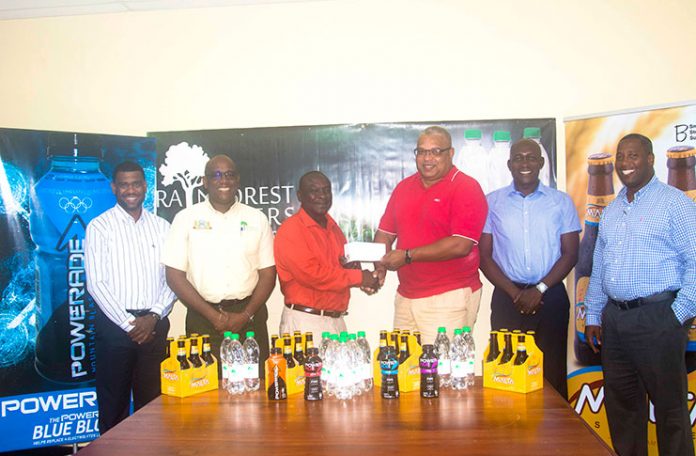 BANKS DIH Limited was yesterday named the 'official beverage sponsor' for the Pan American Indoor Hockey Championships which will open on Monday at the Cliff Anderson Sports Hall.
The Guyana Hockey Board (GHB) and the local beverage company formalised arrangements and announced the partnership during a presentation ceremony at Thirst Park.
Vice-president of the GHB, Alan Newark, received the sponsorship cheque from Banks DIH Limited Communications Manager Troy Peters, where it noted that Rainforest Waters, Powerade and Malta Supreme are the official beverages of the tournament which will attract most of the top hockey- playing nations from North America, South America, Central America and the Caribbean.
Newark expressed gratitude to Banks DIH Limited for sponsoring the prestigious tournament – the first of its kind being hosted by the Board.
"Banks DIH has always being a partner of the Board and we appreciate the Company playing a major part in providing beverages and other support for the tournament," he added.
Peters congratulated the Board for hosting the tournament and stated that the players and officials will be staying hydrated, thanks to Banks, with the former national hockey player noting, "We extend a warm welcome to the visiting teams and officials, and look forward to a successful tournament with the expectation that the local men's and women's teams will emerge victorious"
Also present at the handing-over ceremony were Brand managers Clive Pellew (Water Beverage), Clayton McKenzie (non-alcoholic malts), Errol Nelson (Powerade) and Outdoor Events manager Mortimer Stewart.
The tournament will open on Monday and will feature male and female national teams from Argentina, Barbados, Canada, Mexico, Trinidad and Tobago, United States of America, Uruguay and host Guyana.