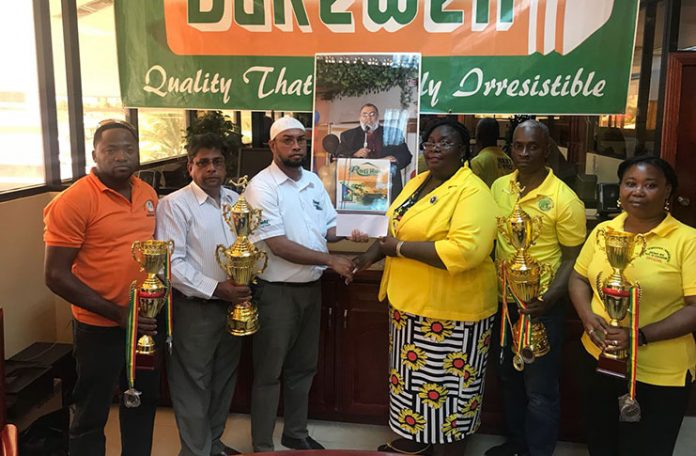 IN recognition of its late beloved Chief Executive Officer (CEO) Naeem Nasir, Bakewell yesterday sponsored the Upper Demerara/Kwakwani (Region 10) Inter-School Championships, which will be run off today at the Mackenzie Sports Club ground.
Rajin Ganga, the company's CEO said sports was important to the late Nasir who, he said, prided himself in helping Guyana's sportsmen and women, and, as such, the championships will see Bakewell being the sole sponsor; covering all the medals and trophies.
"This is a part of our one week of sponsorship of sports events around Guyana because Mr Nasir was a big sports fan and Linden happens to be one of his special places as well. So we're happy to be a part of this championships and I wish all the athletes well," Ganga said at a simple presentation of the prizes at the company's East Coast Demerara (ECD) Beterverwagting headquarters.
Carmen Small, chairman of the Upper Demerara/Kwakwani Sports Committee, said Bakewell's sponsorship is cherished by the organisation since it helps to not only recognise the top performers and schools, but also encourages others to give of their best.
Bakewell, Small mentioned, should feel proud of their contribution to the athletes of the Upper Demerara/Kwakwani area, since the championships will also help to select the athletes who will represent the District at the up-coming National Schools Championships.
The Inter-School Championship will start today with a cycle road race, which will pedal off at 06:00hrs, from Nut Farm at Dalgin on the Linden Highway and end outside the Police Outpost at Amelia's Ward.
Both primary and secondary school athletes will compete in the field events today. On Tuesday, October 17, the primary school students will take to the track while on Thursday October 19, secondary school athletes will be on show, as they go through the various heats and finals for the track events to be held on Friday October 20.
Mackenzie Primary and Mackenzie High School (MHS) are the defending champions of the Upper Demerara/Kwakwani Inter-school sports.
Upper Demerara/Kwakwani (District 10) are the most successful district in the history of the National Schools Championship, having amassed 15 titles – one more than their closest rivals North Georgetown (District 11).