–for 12 young Berbician beauties hoping to take the coveted title
YOUNG women in Berbice are being prepared to be the change they want to see in their communities through the inaugural "I'm a BIG Deal" beauty pageant hosted by Royston Drakes Production.
The pageant, which will be held on November 18 at the Albion Sports Complex Ground, was officially launched last Saturday at the same location, with the sashing of the delegates before a packed out house.
The delegates taking part in the pageant are: Clendolita Lashley, Natasha Pantlitz, Tracy Griffith, Farah Bates, Chelcia Gobin, Seeta Dalloo, Tatiana Lancaster, Kelisha Ramoutar, Jinnela Walker, Denica Henry, Shaquilla Sharpe and Latoya Williamson.
The night also included a Kathak classical fusion, Hip Hop dancers, and even a performance by a saxophonist.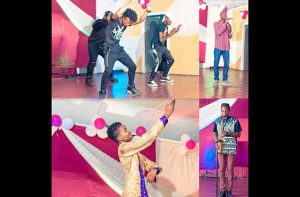 The pageant is the brainchild of Capitol News' senior journalist and producer Royston Drakes, who himself is from Berbice.
He said there is a need for young women to be more empowered, so that they can take up their rightful place in society and help to build Berbice by working to be a part of the solution.
A number of activities are planned leading up to the pageant night, which includes a march, family fun day and a dinner and gala.
The delegates are currently being trained, and expected to be collaborating with several Non-Governmental Organisations (NGOs) as well as government agencies and other small groups to raise awareness on their platforms.
The event promises to be one of the most exciting pageant experiences Berbice has ever seen, and will be packed with fun for the whole family, and entertainment from local stars.
Tickets are expected to be made available soon throughout Berbice.