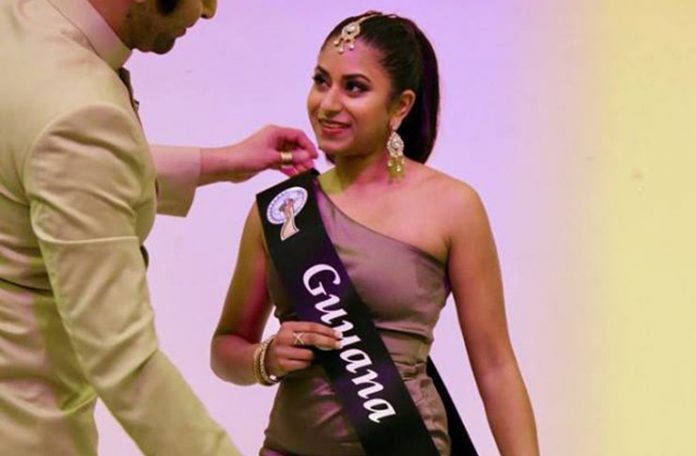 –to 'represent' at the Miss India Worldwide pageant
COME tonight, Guyana's Sangeeta Bahadur begins her bid for a chance at the Miss India Worldwide crown with the Talent and Evening Wear segments, culminating on Sunday night with the Grand Finale.
This year, the pageant will be once again held in New Jersey at the Royal Albert's Palace Hall, with the host hotel being the Edison Hotel and Banquet Hall.
National Director of the Miss India Guyana Organisation, Uma Bux says a lot has been invested in Miss Bahadur and a lot is going to be expected.
"I expect her to be placed in nothing less than the top five, and hopefully win, given all we have invested into Sangeeta's preparations, ensuring she has all the necessary tools to succeed, and her talent piece along with her overall performance since being in NJ," Bux told The Buzz in an exclusive interview.
"Assessing her and the other young ladies, Sangeeta is standing out at every aspect in the pageant activities. Being an excellent public speaker, go-getter, humble and poised young woman, she is definitely making Guyana proud, and making me proud to have her as Miss India Guyana.
"I'm truly proud, satisfied and happy with her reign and representation."
Last year, Guyana ended in the top ten at the pageant, so this year Bux is anxious to start a trend of development.
Since her arrival in New Jersey early this week, Sangeeta has been participating in a series of activities and training amongst 17 other contestants from across the globe.
This year's Miss India Worldwide will see a reduction in the number of international participants compared to last year, with the number being the lowest in recent times. According to the IFC, this is due to the devastating impact Hurricanes Irma and Maria have had on the Caribbean franchise holding countries, in addition to the on-going imposed travel ban issues between the United States and Middle Eastern Countries.
Bahadur, Bux said, has been undergoing training for some four months now, ever since she clinched the national title back in May. Training included gym, talent, make up, and pageantry skills.
The time period was a marked improvement for the Guyana team, which on the last outing had only a matter of weeks to prepare last year's representative, who was eventually relieved of her national title.
"This year preparations has been a lot better than last year," Bux said, adding:
"We had a longer period of time to ensure Sangeeta is fully prepared mentally and physically for internationals. It also gave us a good opportunity to get to know her as a young woman and representative of the Miss India Guyana brand."
However, the training was not without it's challenges, particularly given that Bahadur, who is a Canadian-Guyanese, resides overseas, which made it difficult for her to access the fitness training provided by the local franchise.
"The most difficult part for us as an organisation was ensuring she was well prepared physically," Bux said, adding:
"Given her mature, professional, humble demeanor, we had no other difficulty with her preparation other than not having her in Guyana to personally manage the gym sessions with our very own fitness trainer, Shavi from Genesis fitness.
"After encouragements from us, she took it upon herself and enrolled into a personal training programme with a gym in Canada."
Bahadur trained with Nathan Heimonen from 5 Star Fitness and Nutrition. A versed Bharatanatyam dancer, Bahadur also mostly catered to her talent training, which Bux said she is confident about.