— when oil sector gets up and running, says Min. Greenidge
GUYANA'S budding oil sector creates a window of opportunities for the diaspora, particularly those in skill intensive professions, Vice President and Minister of Foreign Affairs, Carl Greenidge told U.S based-Guyanese in New York.
ExxonMobil has been issued with a license for production of petroleum, likely to commence in 2020.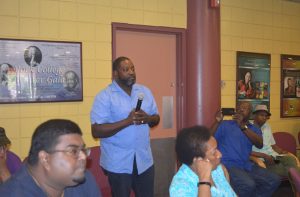 Speaking at a Diaspora Engagement Consultation at York College in Queens, New York, on Saturday, the minister said it would be a mistake to assume that there will be 5, 000 job openings, but he assured that there will be jobs.
"At the level of the skilled Guyanese, most of whom are here, those who are in the professional areas: engineering, chemistry, chemical geology, and chemical engineering, there are opportunities for you to sell, what I call skill-intensive professions," he told the gathering of primarily U.S –based Guyanese.
He posited that there are opportunities in the area of seismic testing and the testing of rocks to determine the mineral composition of a particular area of interest.
Seismic testing is a process whereby an image of the subsurface is created. The data obtained is then used by the oil and gas company to locate the most optimum place to drill for gas.
"That is not something that requires someone working in a building with 5, 000 men, and $3B worth of machinery, and 9,000 experts," he said, while noting that it would only require a few specialists.
OPPORTUNITY
"This is an opportunity for small firms with highly skilled Guyanese to take advantage of that development on the petroleum front," he added.
U.S based-Guyanese, Godfrey Fresco, who is the owner of two companies, one in the Unites States and the other in Guyana, questioned the minister about the provisions being made for Guyanese companies to access available contracts.
In response, Minister Greenidge told Fresco that the government in its engagements with ExxonMobil, is placing major emphasis on local content. The government, through the Ministry of Natural Resources is formulating a Local Content Policy' which focuses on the utilisation of local human and physical resources, particularly in the petroleum sector.
However, Minister Greenidge said while the Government is making provisions for Guyanese to benefit from the developing oil sector, they must rise to the occasion and be competitive, creative and innovative in their provision of services that would be required by ExxonMobil.
Extraction from the Liza field, by ExxonMobil, is expected to commence in 2020 at an initial rate of 100,000 barrels of crude per day in the first phase, with a Floating Production Storage and Offloading (FPSO) vessel providing the main infrastructural support for the project. The government and people of Guyana will receive a royalty of two per cent on gross earnings and benefit from 50 per cent of the profits from the sale of petroleum once production commences.
Last week, during a meeting with President Granger, President of ExxonMobil Exploration Company, Stephen Greenlee, committed to building local capacity in Guyana.
JOBS
Subsequent to that meeting, Greenlee told journalists that ExxonMobil Exploration is aiming to have more than 90 per cent of its activities run by Guyanese when production starts in 2020.
Though he was unable to state the number of Guyanese currently in the employ of ExxonMobil, Greenlee assured that the numbers will climb once production kicks in.
"So our goal is when we are up and running in Guyana, and we have the projects, and we have the actual production activities occurring, our goal is to be like all the other places where we would have employed over 90 per cent nationals in our activities," the ExxonMobil president said.
According to him, the development of local content is of significant importance to the oil producing company, noting that more contracts will be made available to Guyanese contractors.
"One of our top priorities is tried to build a local capacity," he emphasised.
Meanwhile, at the diaspora engagement consultation, Guyana's territorial integrity, health and the need to further capitalise on technology, were among the issues raised.
Dr. Dhanpaul Narine suggested that classrooms in the U.S and Guyana be linked during technology.
"Many of the principals and teachers in New York City, they are willing to use Skype, Instagram and all of the technology to link up with Queens College, and all of the remote schools in Guyana, so we can use cutting edge technology," he said.
Cognisant of the work being done by the Telecommunications Ministry to bridge the digital divide, Dr. Narine opined that the work be further advanced.
"Look at the Robotic Team from Guyana, that came here and did so well. So if we get principals in the schools here, to facilitate robotic engineering which is the field in the future, and they are willing to do that, we will make tremendous progress in education in Guyana," he posited. His suggestions were welcomed with loud rounds of applause.