BUSINESSMAN, Maverick DeAbreu on Wednesday appeared before City Magistrate Fabayo Azore charged for allegedly wounding popular Trinidadian Soca artiste, Benjai, outside Palm Court night club in April.
DeAbreu denied that on April 16, 2017 at Palm Court, Georgetown he unlawfully and maliciously wounded Rodney "Benjai" La Blanc.
His lawyer, Mark Waldron told the court that his client is 25 years old and lives at Broad and Alexander Streets, Charlestown. However, La Blanc's lawyer, Eusi Anderson told the court that his client came all the way from Trinidad for justice.
The lawyer further told the court that on the day in question the artiste had just wrapped up his performance at Pulse Entertainment's Soca theme party at the Palm Court Night Club, Georgetown and that he was standing in a nearby car park in the company of his manager and other people when the driver of a vehicle in the car park reversed into them.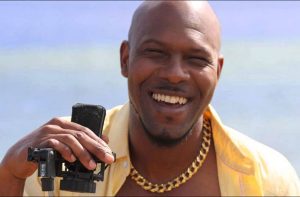 According to the report, when alerted to the presence of the group, the driver came out and pointed a firearm at Benjai and the group. DeAbreu came out the passenger's side of the vehicle and hurled a glass object at La Blanc and slashed him to his face with a glass bottle. He was rushed to a private hospital, where he received over 15 stitches for two deep cuts.
Police Prosecutor made no objection to DeAbreu being released on bail. The Magistrate released DeAbreu on $50,000 and adjourned the matter until October 11. In May, DeAbreu was charged with discharging a loaded firearm at his pregnant girlfriend and her sister. However, he was freed of the two charges after the women refused to offer evidence against him in court.
It was alleged that on February 1, 2017, at Industrial Site Ruimveldt, Georgetown he discharged a loaded gun at his girlfriend, Tiffany Herbert and her sister, Jomelle Herbert with intent to maim, disfigure, disable or cause grievous bodily harm to them.