–for annual 'Labour Day' Carnival
By Tangerine Clarke in New York
GUYANA'S Minister of Natural Resources, Simona Broomes last Monday joined a Guyanese contingent on Eastern Parkway and waved the Golden Arrowhead with nationals to the 50th Anniversary of the Caribbean American Day Carnival Association (WIADCA).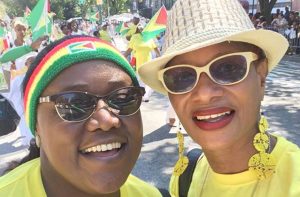 Minister Broomes said she was happy to celebrate with the Guyanese Diaspora, adding that the Guyana government felt it was necessary for a representative from the administration to march with nationals to show unity, and to support WIADCA.
"This is the biggest event in the Caribbean community and we are happy to celebrate its 50th Anniversary," Minister Broomes told the gathering of Guyanese assembled on Eastern Parkway for the start of the event, adding that the government cares about Guyanese in the Diaspora. She also spoke glowingly about Guyana's impending status as one of the few oil-rich nations this side of the Atlantic.
"Your country has oil and gas; we are the richest people in the Caribbean, and we will transfer that wealth to educating Guyanese, as we develop our country," she said, while calling on the expatriates to work together in unity for the betterment of their homeland.
The nationals made history that day, since this is the first time a group headed by Guyanese-born elected officials joined the parade on Easter Parkway.
This was to say thanks to WIADCA, which last year celebrated Guyana's 50th Anniversary of Independence by inviting Guyana's Consul General to New York, Barbara Atherly to join in its festivities as a Grand Marshall to honour Guyana's achievement.
263
RESPLENDENT IN YELLOW
Scores of Guyanese, in yellow tee shirts emblazoned with the Guyana Coat-of-Arms and the words "Guyanese Celebrate WIADCA@50, marched along the parade route singing patriotic songs.
The Guyana Celebrates WIADCA @ 50 contingent was led by Senator Roxanne Persaud; Acting Supreme Court Judge, Justice Ingrid Joseph; Consul-General Barbara Atherly; President of the Guyana Unity Movement, Sherif Fraser; and members of other organisations as they marched to the beat of Guyanese-born but American-raised Master Drummer Menes de Griot and the Shanto Rhythms.
A group of creative dancers did a piece choreographed by Verna Walcott-White to showcase Guyana's proud Indigenous heritage.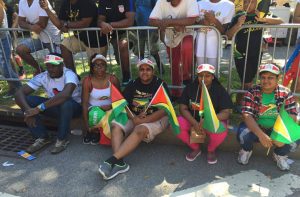 Justice Joseph, in an invited comment, said it was important for her to be a part of the contingent because she is a born and bred Guyanese, and was very proud to celebrate her culture with her compatriots.
"I would not be here were it not for my Guyanese roots," Justice Joseph said.
Senator Persaud thanked nationals for coming together and representing Guyana on such an auspicious occasion.
"The next time we do this, let us encourage more people to come out to showcase the six races of Guyana," she said, adding that on occasions like these, you often hear on-lookers asking whether Indigenous Peoples are Guyanese too.
"People in Brooklyn see only one segment of the Guyanese community," Senator Persaud said, adding:
"Thank you for coming out to showcase Guyana! Let's do this again, but on a larger scale!"
Consul-General Atherly also thanked Guyanese for participating in the event, and reminded them that the consulate is there to serve them, and will be offering its services on Saturdays from September 16.
THE PLACE TO BE
Jonathan Locke, a world-renowned sculptor from "The Land of Pepper Pot, Cook-up rice and Roti and Curry", said many don't know the value of being a Guyanese living in
America, and that the Labour Day Parade was the place to showcase their culture, while Eric Joseph of the Guyana Unity Movement said, "More than anything else, we are here to support WIADCA on its 50th Anniversary because very few institutions have stood the test of time. So, it was imperative to honour this organisation, and at the same time display our Guyanese pride in the Diaspora."
Mickey Harte, who travelled all the way from New Jersey to participate in the parade, said he was proud to be a part of the action, and is committed to supporting events that benefit the Guyanese Diaspora.
Passionate about preserving the Guyanese culture, GUM member, Kay Gray said: "It is important that we preserve and protect our culture."
Drawing attention to the noticeable lack of vending on the Parkway this year during the carnival, Gray said:
"We must fight for our culture, and community organisations must mobilise towards this effort."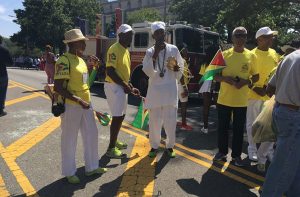 The Guyanese contingent ramped up their "Guyana Nice" song, penned by Menes de Groit, as they passed the Brooklyn Museum, and later gathered to sing "Oh Beautiful Guyana, Oh My Lovely Native Land" in unison to mark the end of their historic participation. (Excerpted from CaribbeanLife)