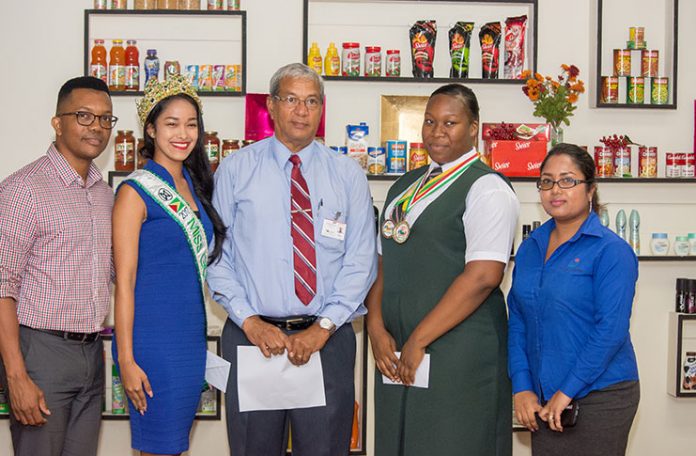 MISS World Guyana, Vena Mookram on Monday received a cheque for G$150,000 for her "Beauty with a purpose" platform from the local firm, DeSinco's.
At the presentation ceremony, DeSinco Trading's General Manager, Mr. Frank DeAbreu was quoted in a statement as saying:
"As a company, we believe that diabetes can simply be described as one of the world's biggest chronic diseases, and the aspiration of this charming young lady, who will be representing us at the world stage, will continue to grow."
The money will reportedly be used in the furtherance of the young lady's diabetes awareness project, "Diabetes and Prevention through Diet and Exercise".
The main component of the project, the opening of a "Fitness Health and Diabetic Centre", is billed for Sunday at 10:00hrs at what is assumed will be the facility's location on Eight Avenue, New Diamond Housing Scheme, on the East Bank Demerara.
During the launch and every Sunday thereafter, there will be a medical outreach team doing free testing for diabetes and possibly other chronic diseases.
Senior Brand and Marketing Manager, Mark Kendall had the honour of presenting the cheque to Mookram during the ceremony at the company's Industrial Site head office at Eccles.
Upon receiving the cheque, Miss World Guyana announced that she is grateful for the significant contribution and moral support from the company to help spread the awareness of the "Chronic Disease Diabetes", and is looking forward to working with the company in the near future. "Winning and becoming Miss World Guyana is not just an honour and a trophy; it is a responsibility," the 18-year-old beauty said, adding:
"It is a powerful platform that can be used to shine light on important issues, and try to make Guyana a better place."
Ms. Mookram will be representing Guyana in China at the Miss World International Pageant in November.
During the presentation, Jemiecia Scott, a Bishop's High School student, also received a cheque for her outstanding performance at the Inter-Guiana Games overseas, representing Guyana for two consecutive years.
In 2016, Jemiecia copped a Gold Medal for her performance with the Discus, and a bronze at Shot-put; in 2017, she also made Gold at the Discus.