By Abigail Brower
YOU may have never heard about Jovanka Williams before, as the young, talented musician who has been steadily making her mark as a force to be reckoned with on the steel pan over the past several years. Now, as Jovanka prepares to represent Guyana as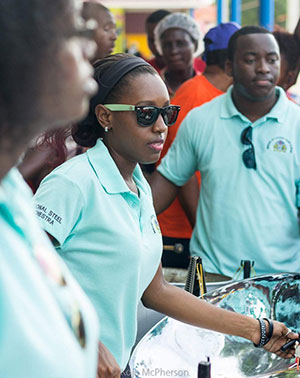 part of the delegation that will be attending CARIFESTA XIII, the young 'pannist' is excited that her talents will be showcased while allowing her to tell part of Guyana's story through her artistic talent.
A bubbly personality, Jovanka during an interview with the Pepperpot Magazine, talked about her early encounters with music while growing up in Queenstown, Georgetown. "As an only child, I usually get a lot of attention from my parents," Jovanka said. "I'm their pride and joy. We travel, pray and eat together as a family and most importantly they always give me moral support in both my academic and career life." She recalled that education in their home was a number one priority. "Any task that was given had to be completed in a timely manner," she said.
The 26-year-old, who was exposed to music at an early age, noted that her career began at the tender age of six, at the St. Gabriel's Primary School which she attended; "Jovi" was always the curious girl. "Just seeing and listening to the other children and being around them Williams recalls "I don't know what exactly took place at that time but something struck me to be a part of it."
Her mother Irene Williams encouraged her to take steel pan as a career after performing at a Church concert, and the turning point she added, was the overwhelming response that came from the crowd "It was really welcoming and they had really loved what I was doing." The steel pan veteran did not come from a musically inclined family; "It was like a seed planted in me," she said. She was granted the opportunity to be close to music not only through her primary school but with the help of her mother's cousin, Sydney Marshall, who is also a musician, and who is the only known family member that is affiliated with music.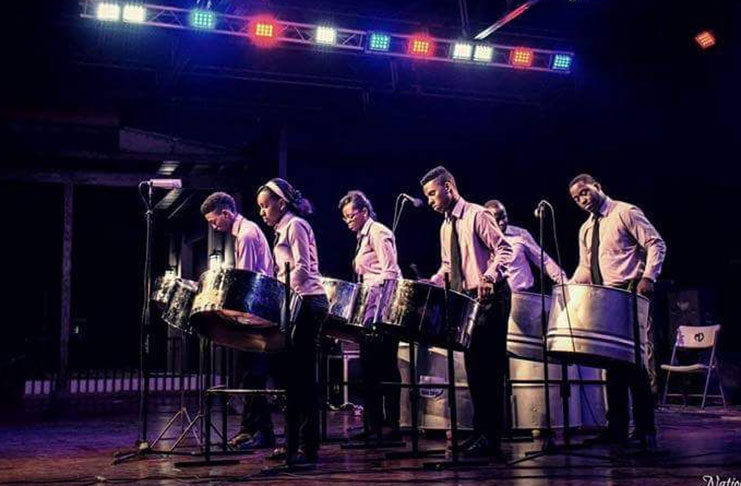 What drives Williams is her faith and dedication to delivering music that will make her audience happy. "Even though you don't know the people in the audience personally, the audience is like your friends and family, they are always dancing or rocking and even singing which motivates my team and me to keep on playing," she said.
Over ten years of working experience in the music industry as a performance artist, Williams is keenly focused on the arts- both as a pan player and a music teacher, her employment has been on the periphery of music, allowing her to take care of herself through earning a living. Success was initially thrilling for Williams as she landed a job as a music instructor at the Republic Bank Annual Summer Camp for young people between the ages of 14-25 years.
She taught for a few months at School of the Nations, spent three years at the Bishops High, where she used the opportunity to pass on her legacy to one of her students who is now the steel pan instructor there. Jovanka is currently teaching at the North Georgetown Primary School as the music teacher. "I love teaching people, especially children how to play steel pan in school; it is really an enriching experience for me. Steelpan is such a fascinating instrument, despite the common myth about the steelpan profession who believe that 'steelpan is a poor man thing'," she said. In bands I've played for such as the Parkside Steel Orchestra, I've had colleagues who were law students, doctors, pilots and even engineers. But as a teacher, I never knew who I would have been getting in my class.
When I took the offer to teach at the summer camp, I've dealt with children with different personalities and attitudes, but that never stops me. Working with children especially young girls, who usually you don't find getting involved in playing steel pan according to Williams is what she like challenging herself with. "I love to make people feel included and feel they are a part of something.
The scholar and veteran pannist in spite of her age has participated in several competitions before, both locally and regionally, including the Panorama International Competition in Barbados. She participated in several categories and copped the second position in the duet category. That year Guyana placed second overall. She also formed part of Guyana's delegation in Haiti at CARIFESTA XII
As Williams shared her reflection and experiences and views on pan, she proudly placed emphasis on saying that she's the best female steel pan player in Guyana and this is something she is definitely proud of. Her influences include famous Len "Boogsie" Sharpe, the famous steel pan player from Trinidad and Tobago, as well as our very own musicians Andrew Tyndall and Colgrain Whyte.
Commenting on the need to encourage young people to get involved in steel pan music, she noted that progress doesn't come so easily and quickly and that there were times when she thought about giving up on her music career. "But what kept me going day in day out, was that changes are inevitable. As musicians, we are looking for handouts, but we do expect our hard work to pay off and our responsibility to be rewarded. Music is like therapy and it helps me to focus, the thing with steel pan is that if you have a flair for it, you will be outstanding, but even if you don't with determination and practice you can strive for perfection," she said.