Trinidadian Afrofunkk designer – Charlene Sheppard- Duncan
WHILE walking with her mother in the streets of Trinidad, an interesting sight caught the eye of 10-year- old Charlene Sheppard. It was a woman on a bicycle, eccentrically dressed in bright-coloured vintage clothing. Her head was cleanly shaven and her eyebrows were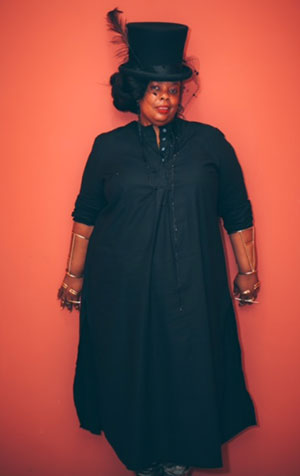 drawn on in high arches. Young Charlene could not take her eyes off the woman and the little girl watched her until she rode out of sight. The woman's avant garde sense of style represented a type of boldness that Charlene knew, even at that tender age, that she wanted to emulate.
Charlene later used that inspiration infused in her as a young girl, to help to mould the woman that she is today. Now, a successful fashion designer, Charlene Sheppard-Duncan has developed her brand AfroFunkk to represent boldness, uniqueness and sexiness; all the things that she believed the woman on that bicycle – who Charlene later found out was well-known Trinidadian designer and style icon Yoko Fung- epitomised.
"Ever since that day, I thought about Yoko Fung; I couldn't get her out of my head," Charlene told the Pepperpot Magazine. "After that, I moved to the US and attended the Fashion Institute of Technology (FIT) with the vision of Yoko in my head. I wanted to feel like that, look like that."
Specialising first on jewellery design at FIT, Charlene later switched to fashion design. "It was a struggle going to school here, living on your own… when I was finished, I started working odd jobs as a nanny; I was trying to figure it out. I was the nanny for a designer for Danskin and then I started to do my own thing. I started to sell at the street markets in New York," she said.

At first, she was just doing jewellery, afraid to take the risk of putting her own style out there, but then her Trinidadian influence came to the rescue. "My mom- who was back in Trinidad- would paint fabrics and send it to me. My mom use to design handbags and those things, you know how Caribbean parents are always hustling- so when she sent the fabrics, I would turn them into dresses and that's how I started little by little," she said.
She first traded under the name Charlene Sheppard Duncan, New York, and her line was sold in a few stores in Harlem, New York and Los Angeles. After a short pause, Charlene picked back up her designing and it was then that she was inspired to rebrand her line under the moniker AfroFunkk.
One look at Charlene's collections would tell you that her style is anything but ordinary. Filled with vibrant colours, bold prints and a curious mix and match of pieces and accessories, AfroFunkk is certainly a line for the woman who dares to think (or dress) outside the box.
"You see a lot of my personal style in my designs but a lot of people think that I am weird. In Trinidad, I get a lot of that, but it doesn't faze me because it makes me feel normal; that's my normal. My style is all about funk- the music I listen to, the clothes I wear- that's how I came up with the name. It represents the way I feel when I am in my garments," she said.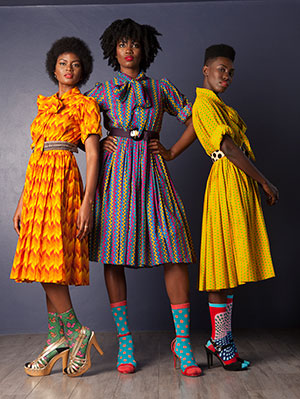 But don't be fooled by the seeming connection to the African race. Charlene admits that the prints, fabrics and overall designs are inspired by and are worn by customers of all races. "My number one customers are Japanese…I don't want it to be misleading because it is called 'Afro'.  I don't want to put myself in that box. I do my own prints but I also purchase prints from Africa – I work with a lot of tribes there- as well as India and other parts of Asia," she said.
Charlene admits however, that her different style does come with its challenges, and that includes sometimes being treated as though she does not belong to the Caribbean.
"When I am there, they are not used to me and they tend to think that I am crazy and weird," she said. This reaction, she admitted, is sometimes experienced with regard to her clothing. In 2005, Charlene placed her clothing in the 'Shh… Boutique' which was owned by one of her friends, Antoinette Rodriguez.
"I wanted to introduce them to a different style, but it wasn't so well received by them because it wasn't short and tight and clingy, but it worked for some people," she said. Her brand was sold in the boutique up until 2015. By the time she took AfroFunkk to Tobago Fashion week later on though, Charlene said that there was some change toward the reception of her style, leading to it being well received. She later participated in the Emancipation activities and even launched a Christmas edition.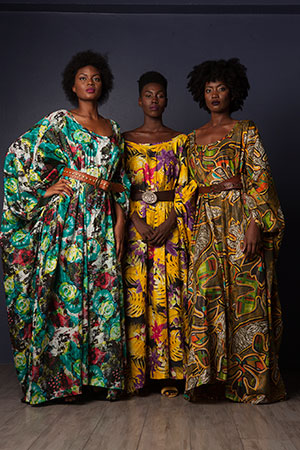 Later on, she held a cocktail edition but, once again, was given a hard time by the locals, who felt that she wasn't 'Trinidadian' because she didn't grow up there and because she currently lives in the US. At that show though, she met up with her muse Yoko, who disclosed to her that people made fun of her style as well.
"I don't live for society, I live to make myself comfortable. I'm not any less Trinidadian than those in Trinidad… I learned to be an individual from a very early age and I love Trinidad because that is where I am from," she said.
Charlene's 2017 collection is titled "Warriors walk alone" and was launched late last year. The collection is inspired by her travels and her adventures that she has encountered along the way. She is currently working on her 2018 collection which will be launched later this year. In the meantime, Charlene continues to represent for the daring, funky Caribbean girls whether they were born or have roots in the Caribbean.