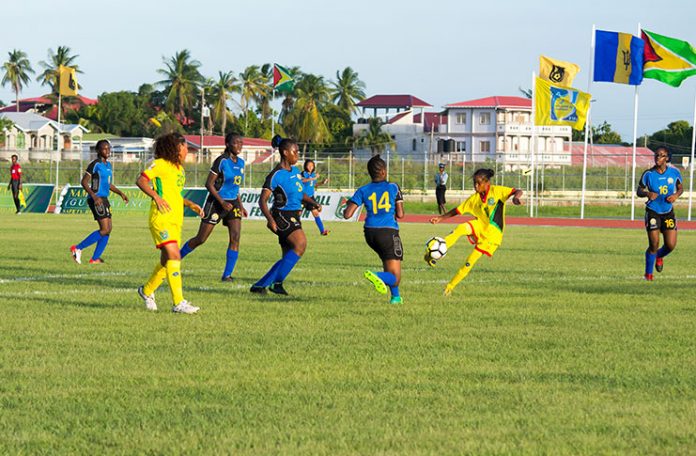 Kwakwani's football gem, Jalade Trim
AT five-years-old, Jalade Trim, who hails from Kwakwani in (Region 10) fell in love with the sport of football when she first saw Brazilian great Neymar da Silva Santos Junior on televison.
Seven years later, at just 12 years old, Jalade was a starting forward for Guyana's National Team when she featured for the Lady Jags against Barbados in their opening game of the CONCACAF Women's U17 Caribbean Qualifier Tournament.
Guyana would lose 5–1 in a more than spirited performance, but, it was Trim's brilliance and flamboyance that made her the star of the match, especially since she was the smallest in size and youngest in age among the players on both teams.
Jalade celebrated her 12th birthday in June and when she stepped on the pitch at the Leonora Track and Field Centre, she became the youngest player, both male and female, at all levels, to ever play for Guyana; an accomplishment she's not too excited about, since to her, it was all part of fulfilling a dream and emulating her idol, Neymar Jr.
"My favourite player is Neymar. I practice all his moves by watching highlights of his games on YouTube. I try to watch as many games as possible," she said. "Why Neymar? Because I read a lot about him and how he always spoke about becoming a star and playing for Brazil, becoming the best player in the world. I think he's humble and remember seeing him as a child just like me, small, but very skillful and everyone was bigger than him. So…he inspires me."
During a sit-down with the Pepperpot Magazine at the Ramada Hotel, where the Lady Jags are encamped, Jalade said that it feels great being on the national team with girls who are both bigger and older. "I would like to make good use of this opportunity to play football at the highest level and follow my dreams," she said. "I remember watching a video where Neymar said to always believe in your dreams. He said that you should believe that you can become a star and work hard and you will, so here I am, trying to become a star and live my dream to be the best player for Guyana and maybe one day, in the world."
According to the young footballer, her mother, Finola Parvattan-Trim, was once a player, "but she had to stop playing because of a bad back. So I was exposed to the game by her, really, and I fell in love when I saw Neymar played. But my mother also encourages me to play and keep playing. My favourite sport is football; I really don't know to play nothing else properly."
Community support
In Jalade's community, located in the Berbice River, sports are treated like a religion. In fact, Kwakwani has produced some of Guyana's most talented youth basketball and football players. "The people in my community are really into football and they really support me, always encouraging me to keep playing, stay in school and do Kwakwani proud. They look out for me and so on," Jalade explained with a smile.
When contacted, Jalade's mom stated, "No matter what, whenever I couldn't find this girl, she's always behind a football. And when she started playing at a tender age, Coach Jimmy (McClean) was very instrumental in helping to shape her. He assisted in getting people to sponsor stuff for her; gears and so on and unto this day, he still assists and I'm very grateful."
Finola added that football is a "family thing" and that talent and interest in the sport have been passed down from her own grandfather. "So I wasn't too surprised when she started following the game, watching it on TV, on the internet, you know, but I'm very proud of her," she said.
Jalade's dreams
Meanwhile, Jalade is adamant that she's going to be a star one day. "I see myself travelling the world, playing for a big club and following my dreams," she said. Asked about her plans if things fall through in the sport, she quipped "If football doesn't work out, I'll become a doctor, because my mother always tells me education is important, because you never know what the future holds."
Reflecting on her first international match, the amiable young player said, "I was a bit nervous because everyone was bigger than me and looked like they could bully me, but then I settled in and did my thing. After the game, everyone was impressed, I really didn't see it like that, I just went out and played the way the Coach (Akilah Castello) asked me to; did the things she wanted, and try to help Guyana win
The team played well, it was not about me. Everyone was glad that we played well and that's what mattered to me more than what people thought about my skills."
Jalade recounted that whenever she travels to play, people, moreso those from the opposing team would laugh at her height and size, assuming that she would be an easy tackle. "But then when the game starts, it's another story because they see that not because I'm small, it means they could take advantage of me. It's just like Neymar when he started, people thought he was too small, but he was just too talented."
Looking ahead, Jalade intends to work on her craft with the help of Coach 'Jimmy', prepare for life as a a First Form Student at Kwakwani Secondary School and become the best female player Guyana has ever seen.