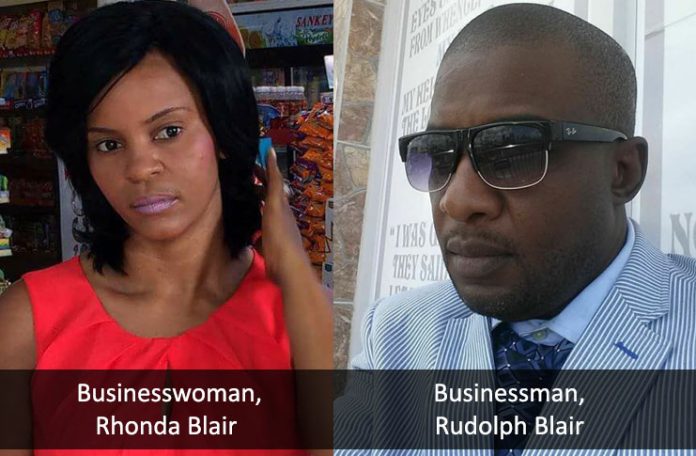 …massive debts, broken family seen as motive
A BUSINESSMAN allegedly stabbed his wife to death and then blew his brains out sometime between Thursday night and Friday morning at their East Canje, Berbice home, police have confirmed.  Dead are Rhonda Blair and her husband, Rudolph Blair. They co-owned the three Stretch the Dollar supermarkets, located at Rosignol, New Amsterdam, and East Canje Berbice. Rudolph was found with what police said was a self-inflicted gunshot wound  to his  ear, in a forested area behind his Coburg  Street ,East Canje home on Friday morning .
Police in a statement said an investigation has been launched into the murder of Rhonda Blair,  42,  whose body was discovered about 00:05hrs Friday at the back of her yard with two stab wounds–one to the left side breast and the other to the right side of the neck, and also the suspected suicide of the deceased husband, Rudolph Blair, 46, whose body was discovered with two suspected gunshot wounds, to the left ear and left side chest, about 08:40hrs in some bushes at the back of his premises. Rudolph Blair's licensed .32 pistol with six live rounds and one spent shell were found next to his body. The bodies are at the New Amsterdam Hospital Mortuary awaiting post-mortem examinations.-burdened Debt Residents and relatives are in shock as to what may have led to the crime. However, reports have surfaced that over the past eighteen months the businesses encountered financial challenges, as lending agencies were closing in. Reports are that Rudolph Blair was pleading with his wife to sell one of their properties, in an effort to save the largest  branch of his stores at Pitt Street , in New Amsterdam.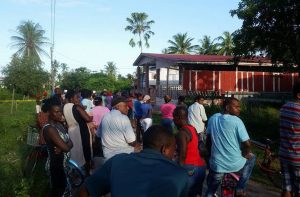 But, relatives claimed that  the woman was adamant  in keeping all the businesses which have since been rented to tenants .The Guyana Chronicle was told that Rudolph subsequently became a hire car driver and would drive the East Canje route , but the income was insufficient to pay his loans. As a result of mounting financial debt, Rhonda Blair left their home and went to live  with her friend, Dover, at Ithaca Village, West Bank Berbice. Reports are that Rhonda received  a call from her husband and she decided to reach him at their home . However, the friend, having been told of  Rhonda's whereabouts, became worried after she got no response from her after 19:30hrs .Consequently ,  Dover travelled to East Canje, where a missing-person report was made at Reliance Police Station. It was after the missing person report was made , that the police accompanied the reporter to the Blair's home , where the lifeless, bloodied remains of Rhonda were found in the fenced yard just before midnight on Thursday. Berbice Commander, Assistant Commissioner, Paul Williams, said the body bore multiple stab wounds.Meanwhile, at the scene on Friday, police and relatives were overheard talking about Rudolph Blair, fondly referred to as 'Ruddy'. Prior to his death, he was overheard calling for his sister Merlyn. However, he  warned them not to get close to him. Shortly after, a shot was heard; the dogs howled, followed by seconds of deafening silence before relatives and friends erupted in screams.A good man Rudolph Blair was referred to as a 'good man'. However, his wife's new found 'spirituality' brought an additional strain on their relationship.
The Guyana Chronicle was told that prior to his death, Rudolph Blair messaged contacts on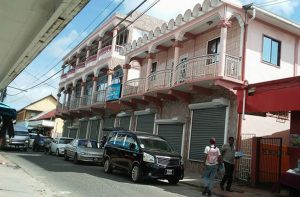 his mobile device, informing them to take care of his son and daughter as it was a bloodied day. He had also texted a friend saying he wanted his family together.During an interview with the Guyana Chronicle in December 2014, Rudolph Blair had denied reports of  suicidal attempts and had on that occasion recommitted the services of his business to Berbice customers. He had confessed that two months after opening the largest supermarket in Pitt Street, there were many challenges , which were based on rumours which had stated that he had attempted suicide because of mounting financial pressures. "But, it was all a lie', said  Randolph Blair back then.  "While those rumours were being peddled, I used to come and open the store, before returning home to find solace with my God, as I realized that no one else could have helped me, but God…," he told the Guyana Chronicle. "Persons were not seeing me, so, they came up with rumours that I committed suicide.
I hang myself because of financial difficulties. There was a rapid decline in sales , which first started with the outlet on the West Bank of Berbice. It was also peddled to various wholesalers  that persons from a particular ethnic grouping cannot do business…and so it became most challenging…but it never came to my thought to sell the business or to commit suicide. However, I had to downscale on my staff," Rudolph Blair had said. "When I had a smaller business, I was not recognized, but now, with a bigger establishment, persons believe it is too much for me. But I have the assurance and the faith that something good will come out of this," he had assured.On November 22, 2013, the  Stretch D Dollar Supermarket at Pitt Street, opened the new expansion which almost tripled its previous size. The entity  offered  a wider variety  for a better range of choices  for the  customers. The Stretch D dollar chain was first established  in 2002 in Canefield ,East Canje , while the doors at Rosignol, West Bank Berbice were opened in 2010.