'Asa': Wearable art
–For the fashion-forward and the brave
FROM the creative mind of Keisha Edwards and the marketing genius of Ashaka King, comes the Afro-Caribbean, Carnival-inspired collection, 'Asa' from ShaSha Designs.
The collection, which was launched on July 10, is available Online at piecesandthings.com as well as at the Pieces and Things location on North Road, Georgetown, and features an array of wire bras made of African print fabric (Ankara). Asa (pronounced "Asha"), is a Yoruban word which means culture, and according to the collaborative team, the collection was "designed to serve as a fashion-forward, modern celebration of African culture and Emancipation."
In an interview, Keisha Edwards told the Guyana Chronicle that she made her first wire bra for herself, and wore it earlier this year while taking part in Trinidad and Tobago's Carnival celebrations.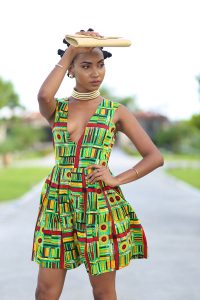 "I love using kente print because in certain African countries, the royal family would wear kente. So, it is a form of royalty," Keisha said.
"I wanted to make a modern interpretation of African clothing using carnival culture." Later on, Ashaka saw Keisha's post on social media and expressed an interest in collaborating to develop a collection of the wire bras. "Asa is inspired by Afro-Caribbean Culture and Caribbean Carnival Culture, and is a celebration of who we are," Keisha said.
Meanwhile, Ashaka said that collaborating with Keisha is a "badge of honour for the Pieces and Things brand, given the reputation that ShaSha Designs has developed over the years both at home and abroad.
"It's a very special feeling to know that she felt comfortable with us, and we actually did it. We've been talking about working together for years, but conflicting schedules kept getting in the way.
"But this time; this year, we made it happen and it was seamless," she said.
Moreover, Ashaka said that her collaboration on this project as a black woman in the fashion industry brings much meaning to who she is.
"As a young black woman; strong and unapologetic about her blackness, collaborating with a like-minded spirit to create and produce such awesome wearable art in celebration of who we are is powerful," Ashaka said.
BIGGER THAN EMANCIPATION
"It is bigger than just Emancipation Day; 'Asa' says it's okay to pay homage, and you can be sexy doing it; dare celebrate your culture beyond just one day. It's the sound that's permeating the wave lengths of our modern day generation and we've contributed, beautifully to that song," she added.
The use of African print in fashion, has in recent times become quite popular in the fashion industry, with many designers opting to use the prints for non-traditional clothing as well.
And because they're available on the global market, African prints are often worn by persons of other races too, sparking some concern from the African community about cultural appropriation, an issue which has been the subject of much debate in the wider world.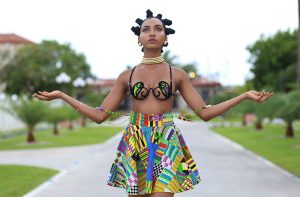 Asked about her thoughts on the subject, specifically whether cultural appropriation is an issue in Guyana, a multi-cultural society which has for decades pushed for its people to come together and celebrate its diversities, thereby sparking a unified nation, Keisha concurred that it is not necessarily so.
"We are a post-colonial, multi-cultural Caribbean society where we are encouraged to not only know, but understand and celebrate the different aspects of our heritage. I believe that it is very important for us as Guyanese," she said.
Like Keisha, Ashaka agrees that in Guyana, cultural difference is celebrated rather than tolerated, and she thinks that that is part of what makes Guyana beautiful.
"Seeing Amerindian faces in Shalwars and Indian girls in cornrows, embracing and celebrating and slaying; it's a beautiful thing," she said, adding:
"I've been very vocal socially about my views on Cultural Appropriation. For me, the notion is silly, and I was met with stark opposition because of that.
"Apparently, it's a very real issue; one that we're blessed not to have. My lack of empathy and ignorance is a direct result of being raised in a multi-ethnic and cultural society."
So, regardless of race, "Asa" is available for the fashion-forward and the brave, particularly those looking to stand out in style this Emancipation Day and beyond.