After 15 years of touring the world and living out a childhood dream, 34-year-old Guyanese Nicolette Fernandes is calling it quits on her years as a professional squash player, though she's by no means done with squash altogether – at least not just yet.
In an exclusive interview with Chronicle Sport just after claiming the National Women's title at the Digicel Senior Squash Championships last weekend, Fernandes confirmed that she's hanging up her racquet, metaphorically speaking, as it pertains to performing in the pro series.
"I just want a little bit of a break from squash; I've been doing it for 15 years as my profession. I'm just taking a break from squash in general," said Fernandes, who is currently ranked at No. 73 in the WSA June ranking.
"I felt like it was the right time. I was at peace with where I was with my life and all I had accomplished and it just felt like the right time."
Nicolette's scaling back on her squash was evident when she played in the national championships, where her high-end skills saw her participating in both the women's and men's categories, not for the first time.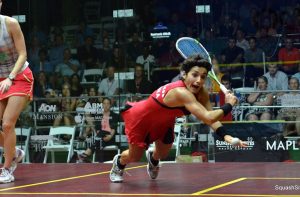 She was actually so good at it that in 2010 she became Guyana's first female to win both the women's and men's titles. It was in 2010 that Fernandes was named Sportswoman of the Year in the National Sports Commission (NSC) award, based on her exploits in 2009.
Nicolette has been a well-known Guyanese personality throughout her years as a squash player and despite her retirement plans, it was affirmed that she will still be continuing as player, though dropping the bombshell that she will not be looking to represent Guyana at the Senior Caribbean Championships next month.
"Squash has been my profession for the last 15 years, so if I continue to play squash now it's for the sheer love of it, which I do have. I don't think I will be representing Guyana at the Caribbean Seniors," said the five-time Caribbean women's champion.
Fernandes had a career-high World Ranking of 19 (in 2014), had a season high-ranking of No. 34 in February, and since ranking No. 88 in 2009, she has consistently ranked within the top 100 of the Women's Squash Association (WSA) ranking for the last eight years.
It was in 2014 that she hit the peak of her career. It was in October of that year that Fernandes got a World No. 19 ranking; her personal best and a ranking she would maintain for the rest of the year.
For most of 2015 she continued in the low to mid 20s in the ranking. As the years rolled on, she unfortunately couldn't better that no.19 ranking, but not from lack of effort.
"The ultimate goal was always to be world number one and be a champion; I didn't achieve those but man did I try. Nobody could fault my effort. Because of that I have peace, because I put everything into it. Most of the time it was just me going around the world playing, there were a few of my countrymen going around [sometimes], but mostly it was just me," Fernandes shared.
Notwithstanding the demands that the career entailed, for Fernandes it was and always will be a dream come true, living up to being everything she always though it would ever be.
"I did something that as a child I always wanted to do. Sometimes you just dream of something as a child and when it comes through you just try to take it all in, and for these 15 years that's what I did, just try to take it all in and I loved everything about it. Everyday training, competing, and travelling; I loved everything about it. I did miss my family, but that's natural," Fernandes said.