Menacing paceman from West Indies' golden era tracked down after a six-year search by Indian journalist
The troubled post-cricket life of Patrick Patterson has been revealed in an absorbing tale by an Indian journalist who spent six years tracking down the former West Indies paceman in his native Jamaica.
Almost 25 years after he played his final Test, Patterson was interviewed by Bharat Sundaresan from The Indian Express, after the journalist originally set out to speak with the legendary quick during an Indian tour of the Caribbean in 2011.
Quick Single: Late collapse hands England WWC title
"For years now, I've only heard grave and dire speculations about Patterson's present state – that he's lost in the bush or is in an asylum; maybe even roaming the streets as a destitute," Sundaresan wrote.
"Few believed that he was still in the country or that he was of a sane mind. It was like the West Indies had not just given up on, but forgotten, one of their superstars of yore. And, of course, there was no sign of him."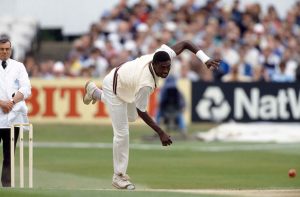 Patterson made his Test debut in 1986, in the middle of a heady era of West Indian cricket, and was another to roll off a seemingly endless production line of tall, menacing and super-quick fast bowlers.
He played 28 Tests between then and 1992, taking 93 wickets at 30.90 and striking at 51.90.
His last Test appearance came at the Gabba, before he was dropped for disciplinary reasons.
The Jamaican disappeared from public life thereafter, his absence fuelling numerous rumours about his mental health and general whereabouts.
Eventually he was located, and told his story – reluctantly at first, before warming to the task and seemingly taking some pleasure in revisiting his own history, even if the journey was chequered by many gaps in his memory.
Sundaresan discusses one particular Test match, at the MCG over Christmas in 1988, in which Patterson took nine wickets and, legend has it, told a bunch of Australian players who had sledged him in the field that he was going to kill them.
"He looks at you, nodding, like he's hearing about his own feats for the first time," he wrote.
"'I'm just so far from all of that, (and have) nothing around me to remind me really of the whole journey. It's been like that for 20-odd years. I've just been at that address', he says, almost apologetically.
"'I can remember the atmosphere at that match you talk about. It was electrifying. Like a Test atmosphere. But that's all I remember. I hope you understand'."
But there are bright spots, too. He recalled India's Kris Srikkanth and Australia's David Boon as the two who "bothered me most as batsmen".
The story undulates between vivid recall, hazy memories and a nagging concern from Patterson that there are "external forces" out to get him – those same forces, he says, are behind rumours suggesting he has, as Sundaresan puts it, "lost his way".
"One time I heard a fellow convincing everyone that I was already in Bellevue (a mental asylum in Kingston)," the 55-year-old said.
"That day I just hit the pits. I couldn't move when I heard it. I was scared that that's where they wanted me to be. They said they couldn't find me, but I was right here.
"But they kept speculating and tarnishing my image and I couldn't do anything about it because I had more basic things to worry about, like food."