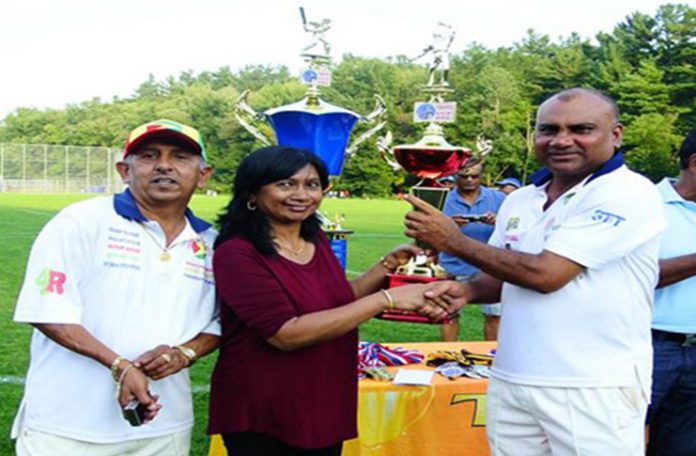 …Deonarine confident of eclipsing hurdle
By Frederick Halley
TORONTO, Canada — Having won all the international tournaments staged in Guyana, Florida and New York, the Guyana Floodlights Softball Cricket Association (GFSCA) masters have been quietly establishing a dynasty of their own as far as softball cricket at the Over-45 age group is concerned.
However, their attempt to win the inaugural Ontario Masters Softball Cricket Clubs (OMSCC) Toronto Cup, staged in September 2015, came up short after they were upstaged by Toronto's Our Own in a closely-fought encounter at the University of Toronto ground.
Since then the GFSCA masters have carted off the 2017 Florida Cup and recently, the New York Legends Cup, defeating their nemesis Guyana's Regal Masters on both occasions. The latter got the better of them in the 2016 Guyana Softball Cup and also in the Legends Cup.
Fast forward and it's unto Toronto Cup II, set for this Caribana weekend and according to long-standing skipper, Rickey Deonarine, the GFSCA players are aiming to set the record straight by becoming the only team to have triumphed in Guyana, Florida, New York and Canada.
GFSCA's chances have been further boosted with the non-participation of Our Own from this year's tournament. Prior to the 2015 final, Deonarine was on record as saying he was undaunted by the presence of several former Guyana players in Our Own team, including Sunil Dhaniram, Shivnauth Seeram, Troy Gobin and Jaimini Singh. Added to that, the team was led by Mahendranauth "Bobby" Parasnauth, still fancied as one of the best softball players in and out of Canada.
An exuberant Deonarine is confident that despite the absence of some key players in Wayne Jones, Anil Beharry, Ramesh Narine and Gordial Mattai, they are capable of lifting the winners trophy come Sunday at the University of Toronto ground.
Acknowledging that a few fielding lapses also played a major role in their performance in 2015, Deonarine felt that GFSCA needed to score at least 150 to be in with a realistic chance of winning. He also pointed to the fact that they failed to build on the rapid start given by opener, Uniss Ysuf, whose blistering 20 included three massive sixes.
Eventually, the GFSCA's 128 proved inadequate as Our Own went on to win in 19.1 overs as the experience of Gobin (43 not out) and former Canadian World Cup player, Desmond Chumney (36) proved to be the major difference.
This time around, the GFSCA masters are coming off a resounding victory over Regal Masters at the Roy Wilkins Park, Queen's New York where Ravi Lutchman blasted a match-winning undefeated 112 and received fine support from Yusuf (34) and Lloyd Ruplall (38) in their lopsided victory.
GFSCA reached a formidable 217 for four in their allotted 20 overs before restricting their opponents to 167 for seven off their 20. Jones, who is absent from the GFSCA Toronto Cup squad, claimed four for 32.
GFSCA, who are raring to go, will do battle with NYSCL Legends, NY Hustlers, Tri-State Muslims, Ontario Masters Legends (OMSCC/Host, League Team), Ontario Masters Softball International (OMSI – Ontario Masters Touring Team), Amazon Warriors (New Jersey) and Better Hope Legacy when the tournament bowls off on Friday. The welcoming ceremony will be held at the Tropical Nights Restaurant and Lounge, Morningside Avenue, (at Sheppard), Scarborough, starting at 1830hrs on Thursday, setting the stage for the commencement of the tournament the following morning.
Floodlights team reads: Rickey Deonarain (captain), Ramo Malone (vice-captain), Uniss Yusuf, Lloyd Ruplall, Ravi Lutchman, Jagdish Persaud, Tulshi Lutchman, Neraj Narad, Pooran Singh, Huks Lutchman, Ago Gopaul, Kenrick Persaud, Jailall Deodass, Pithamber Maharaj and Ramesh Sunich.