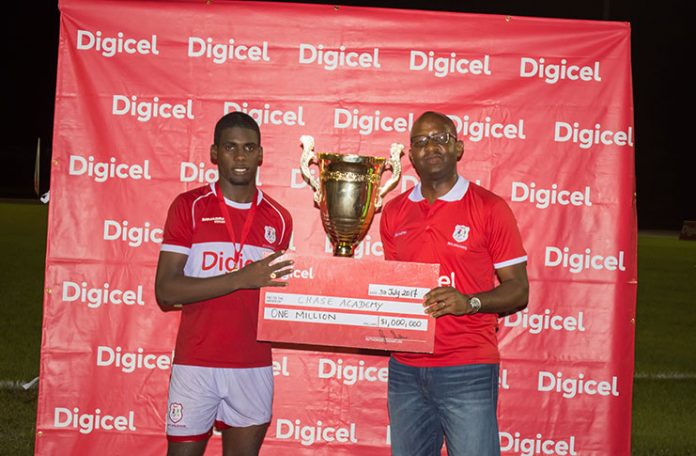 "we will have to make some changes" – Regional CEO Gregory Dean
Digicel's Regional Chief Executive Officer (CEO) Gregory Dean dispelled all rumours and confirmed that the country's most prestigious schools football tournament will continue.
On February 22, Digicel announced that it will reduce its global workforce by 25 per cent over the next 18 months, as part of its 2030 global transformation programme.
Digicel said it is designing and integrating its organisation to be fit for purpose for 2030 and beyond, stating the future organisational structure will comprise a small number of regional hubs (two for the Caribbean and Central America regions and two for the Pacific region), housing back office centralised functions and delivering shared services, allowing staff in Digicel's 31 markets to focus on sales and enhanced service delivery – and ensuring that resources and investments are prioritised to drive competition and innovation.
However, in Guyana, persons were of the opinion that because of the forecasted changes, it could be an end to what is now seen as the 'Holy Grail' of schools football locally.
"There's no issue with us continuing the tournament" Dean told reporters after the completion of the seventh edition of the championship, which saw Chase Academy winning their second successive title with a 6 – 2 win over Annai Secondary on Sunday.
"I think we've been honest that we can't continue the tournament the way we've been doing it. The staff doesn't have the time to run the tournament the way it's been running for the past seven years, but, I think we just need to change the way we've been doing it" Dean said.
Asked if special management committee will be put in place, Dean stated "If you look at the way we've been executing the tournament over the years, the staffs are the ones doing everything, going to all the regions; we just don't have the resources in terms of staff to execute at that level."
"There's also a little conflict in terms of maintaining our business and also doing the tournament, so I think regardless of what it is, we want to keep doing the tournament, but we have to change the way it's being done" said Dean, who is responsible for the Guyana, Aruba, Bonaire and Curacao markets.
One hundred and fifty schools, drawn from the ten administrative regions of Guyana, participated in this year's championship, which Dean said should be bigger and better next year.