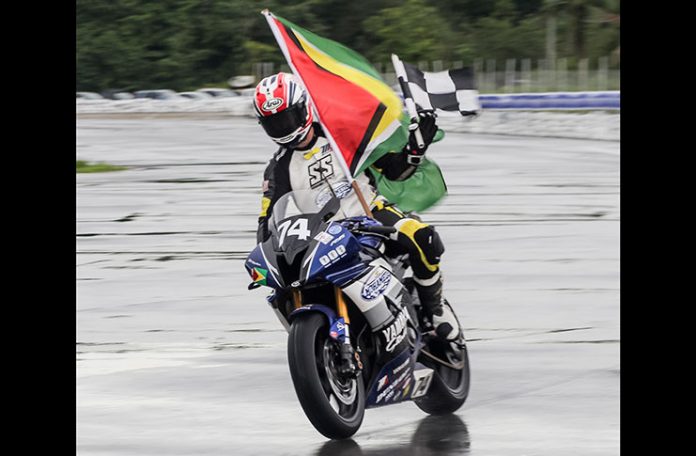 Prince survives early scare to make clean sweep of round two
(By Stephan Sookram in Trinidad and Tobago; compliments of B.M. Soat and Mohamed's Enterprise)
BRYCE Prince survived an early scare and changing weather conditions to continue his Caribbean Motor Racing Championship (CMRC) 2017 dominance with a clean sweep of round two Sunday.
Inclement weather delayed the start of the day and caused several races to be pushed back, but Prince was flawless in the execution of his duties and even fought off the challenges of the hosts' Nicholas Gonzalves on several occasions to be crowned the overall bike champion at the end of the day.
Speaking to Chronicle Sport, Prince said, "All in all, we are happy for a good weekend; three wins are always a good thing and of course the points are important too."
Prince, of team Mohameds Enterprise R6 wasted no time in getting off the line first on all three occasions but had the challenge of battling changing weather conditions in race two.
Azad Hassan joined the local Group One where he picked up one first place.
In the Group Two division, an early incident between Trinidad's Dr. Mark Williams and points leader, Luke Bhola, left the latter out of commission for the remainder of the day with a damaged rear suspension.
Nonetheless, Barbadian Mark Thompson picked up two victories and a Did Not Finish (DNF) for valuable championship points; but the overall driver accolade in the class was picked up by Williams.
Guyanese Rameez Mohamed had another mixed weekend, having continuous mechanical problems where he finished 8th out of the 18 car grid, saying, "That is racing. We had some difficulties that we didn't see and we tried to make use of what we had."
Mohamed also entered Group Three where he picked up a fifth, fourth and a DNS (did not start), with Ronald Worthman and David Lyons each picking up one win.
The final Group Three race results are under investigation following the issuing of the wrong flag at the wrong time which caused two cars to return to the pit.
At the Group Four two-wheel drive end of things, It was a usual day at the office for Barbadian Mark Maloney who racked up two wins, but suffered mechanical troubles in Race Three where he did not finish.
That allowed the host's Franklyn Boodhram, who finished second on two occasions and first in Race Three to pick up the champion driver award.
In the 4wd Drive class, Andrew King picked up two second place finishes to the Host's Christian Bourne. The team began returning home yesterday.