VARSHANAND Dhalu called "Black Boy", 22, laid motionless in his bed with a blank stare at his 18-year-old wife holding their three months old son as he struggles to respond to this publication.
"Pain… head pain," the young fisherman of Number 79 Village, East Berbice
Corentyne grimaced in a faint voice. That was all he could have mustered up the strength to say.
Varshanand was attacked, beaten and left to die by three men on June 30th
while hanging out with his brother at a shop, a stone throw away from
his home.
The aftermath of the incident left him bedridden, without a left kidney, internal injuries, severe head injuries and a medical bill of over $2M. His attackers are currently walking freely in the streets and continue to issue threats to him and his brother after being placed on bail for attempted murder.
His family, scared for their lives, reached out to Guyana Chronicle with the hope that the authorities would listen to their plight and render them help.
According to Varshanand's older brother, Chandrika Dallu, 27, at around 23:00hrs on June 30 this year, he and his brother were hanging out at a shop in Number 79 Village, and as he entered the shop to purchase two Guinness, a man named "Tony" was cursing loudly but he paid no heed.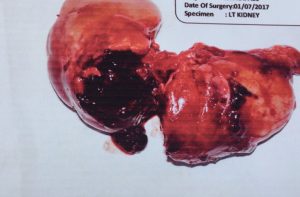 After finishing the Guinness, he left the shop but decided to have another round and re-entered to make the purchase.
But as he neared the counter, Tony, who was imbibing with two other persons whom he identified as "Bambul" and "Chato" threw a beer bottle at him.
And at that point, the two others, one armed with an iron bar and the other with a piece of wood charged at him.
"When me walk in the shop, before me reach the counter Tony pelt me
wid wan bottle and me see Bambul and Chato a run to me. One get one
big wood and the next one get wan iron bar. Them ash me and me run
out but all three a them jump pan me buddy and start beat am till he
fall down and them run way."
OLD GRIEVANCE
Questioned on what may have started the fight, Chandrika related that
the trio had an old grievance over money owed a few years ago to his
younger brother.
"Couple years now them had an old story weh them owe me brother money
and when he ask them for am them stab he up but the matter done just
suh, we never went court or nothing but since then them does want
harass we every time cause people vex wid them fuh wah them do he since
then," Chandrika related.
He further related that on the night in question, they did not have any
altercation or exchange of words when they were viciously attacked. Varshanand's wife, Farina Noordeen, 18, said she was at home when she heard her husband and brother-in-law were beaten and she, along with her brother, ran over to the scene.
She said upon arrival, they found Varshanand lying motionless on the ground and bleeding profusely from the ears and mouth. He was picked up and rushed to the Skeldon Hospital but was subsequently transferred from there.
"When we reached Skeldon Hospital, they called the ambulance and transferred him to New Amsterdam right away and when we reach there they rushed him to do scan and said he had a clot in his kidneys and they gun treat him for that and keep him overnight, but he wanted to urine, so I helped him and when I look in the container is blood so I got scared and started screaming to the nursed and doctors who told me it was ok that that is normal cause he had internal injuries but his was not responding so them decided to transfer him to Georgetown
Public Hospital," she said.
WORSENED
Noordeen noted that upon arrival at the hospital, her husband's conditioned worsened and he was not receiving the level of attention he needed and a decision was made to take him to a private hospital on July 1.
"When we reach Public [Hospital] in town them just get he on the bed, no saline or nothing nah connected to he, he just deh and crying out for pain. He tell me he nah nah gun make it, so we decide to carry he private when we reach, they did a scan and said they needed to operate on him right away cause his kidney damage and he gun die cause he bleeding a lot internally. Plus them show me a scan of he head where he get two blood cloth and after the surgery them show me the kidney how it damage from the hit he got."
The young mother is of the view that the move to the private hospital saved her husband's life since he received the attention and care despite a massive bill. Relatives told this publication that the incident was reported to the police and the suspects were arrested and placed before the courts to answer to charges of attempted murder.
In the first appearance, the suspects were remanded but on the second, they were reportedly granted bail in the sum of $300,000 each. The family is of the view that the suspects have been issuing threats to them and should not have been released.
They say despite reporting the threats to the police, no action has been taken against the men.
"Since the incident me mek report and them seh fuh get a medical and me went hospital and till now nobody nah tell me nothing, no court date nah set fuh me or me  nah get called to give evidence or nothing . Since the first court date them threaten fuh kill me in front of the
police and me go in the station and mek a report now we all scared because them free and me brother life messed up. We don't know if he will ever recover fully," said Chandrika as he called on the authorities for justice.