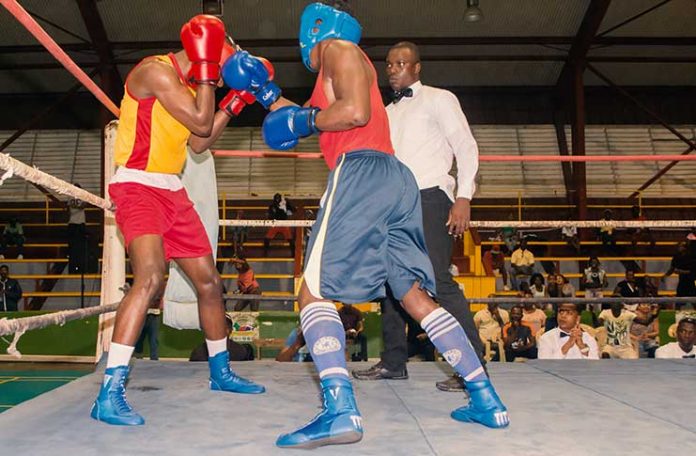 Despite GPL's interruption, GDF assured of retaining Champion Gym title
THE finals of the Guyana Boxing Association's (GBA) Andrew Lewis National Novices Championships got off to a blistering start at the National Gymnasium, Mandela Avenue on Thursday evening and the upbeat tempo continued until the conclusion of the ninth fight on the 12-bout card.
However, at 22:00hrs, the venue and surrounding areas were plunged into darkness due to a power outage by Guyana Power and Light (GPL).
At this point, defending champions Guyana Defence Force had already chalked up 14 points from five victories and four runner-up places, with another two all-GDF contests yet to be staged, and another involving a soldier and a boxer from the Republican Gym.
Those three bouts were to be completed yesterday afternoon at the Andrew Lewis Boxing Gym, Albouystown.
The most interesting fight on Thursday night's card was one in the 69kg division between Jamal Leitch of Republican (Rep) and GDF's Toney Gillis that saw Leitch emerge winner by a unanimous points decision.
From the start of the contest, the two `gladiators' stood toe-to-toe and exchanged punches like raindrops for the entire three rounds. During the second stanza, Gillis received two standing eight-counts while in the third and final round, Leitch received one standing eight-count.
GDF had six victories – two knockouts, two stoppages and two points-decision verdicts.
Fighting in the 75kg division, Okiemo Baker (GDF) knocked out his gym mate Torin Adams at two minutes one second of the first round, while in the 49kg class, Akiemo Watts (GDF) forced the referee to stop his contest against Darmandra Shoepersaud at one minute 26 seconds of the first round.
Delroy Murphy then gave the referee cause to halt his 52kg division contest against Ewart Cobis (Rep) at 58 seconds of the first round, Delroy Fordyce (GDF) then secured a points decision win against his gym mate, Delroy Leacock in their 60kg division fight before Kevin McKenzie pounded out a points decision win against Delon Garraway (GDF) in their 64kg contest.
The other Elite Class fight that was to be contested on Thursday night was one between Kelvin Moore of the Vergenoegen Boxing Gym (VBG) and Trevor Williams (Rep) in the 56kg division but Williams failed to make an appearance and Moore won by a walkover.
In the Youth championships, Keevin Allicock of the Forgotten Youth Foundation Gym caused the referee to stop his 56kg contest against Elton Calistro (Rep) at two minutes 29 seconds of round one, while Christopher Moore (VBG) won by a split decision against his gym mate Deson Elcock in their 60kg contest.
The other fights that were to be completed yesterday at the Andrew Lewis Gym would have brought together Joel Peters (GDF) and Jamal Williams (GDF in an 81kg contest, Germaine Williams (Rep) and Aubrey Headley (GDF0 in a 91kg bout and Emerson Farley (GDF) and Anthonio Williams (GDF) in an over-91kg contest.