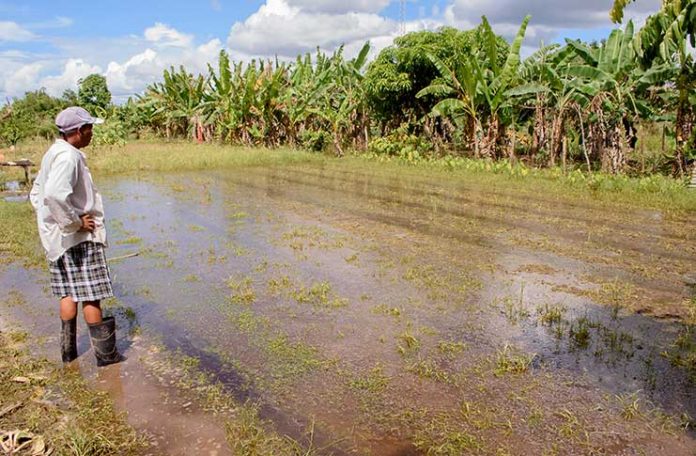 — say flooding due to NDC negligence
FARMERS and residents of Conservancy Dam, Canal Number Two Polder, West Bank Demerara (WBD), have suffered losses of cash crops and livestock due to inundation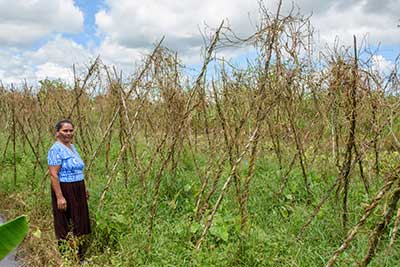 caused by heavy rains over the past few days.
When Guyana Chronicle visited residents of the community on Wednesday, they were counting their losses as they wait for the accumulated water to fully recede. Sonja Khan, a resident, said she has been living in the community for just over a year with her husband and two children and during that period, they have lost a lot when it rained.
"Since we moved here a year ago my husband and I have been farming cash crop and poultry, but as soon as it rains we lose everything or left with very little," Khan said.
Farming, she said, is her livelihood and it would be a challenge to restart.
Added to that, because the land gets swamped, they are forced to relocate their livestock or else that too would perish.
Deonarine Persaud and his wife, Somintra Persaud lost their livestock because of the flood. The couple, who have been living in the community for over three decades, said they have suffered significant losses over the years.
The recent loss they suffered was however minuscule in comparison to what they have lost over the years.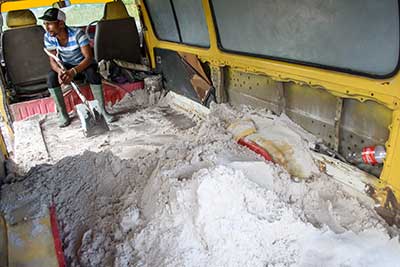 "We tried making drainage channels but this don't work because the trenches that link to the canal run over… The thing is, is not just one trench, we have one in front and one behind us, so we are boxed in," said Deonarine, who noted that it was suggested to the authorities to have a sluice door built so as to limit the flow of water into the trenches.
This suggestion, he said, seemed to have fallen on deaf ears and famers have no choice but to replant and hope for the best after a flood.
Another farmer, Rakesh Ragnandan, shared similar sentiments.
On average, he said it takes over two months for their land to be ready for cultivation after a flood.
Their main problem is not with the cultivation of their farm, Rakesh said, but the alleged negligence of the Neighbourhood Democratic Council (NDC) of Canal Numbers One and Two.
Residents complained that over the years, whenever there is a flood, no one approaches them to render assistance.
"Nobody comes to check on anything whether flood or not," resident David Singh said, pointing out that this is so despite farming being their livelihood.
Many other accusations were levelled against the NDC, one being its alleged failure to maintain the front and back dams, among other things.
NDC Councillor, Mahendra Parbhu said some of the claims made by residents are unfair. He said the Council is working with a budget of $20M for both Canals.
Parbhu nevertheless said they have been doing their best to ensure that the dams are maintained.
It was pointed out that they are currently awaiting a feasibility study on the possibility of building a road that will run below the level of the dam.However, residents have criticised the effort because they fear their land will be compromised.
In relation to the maintenance of the canal and trenches, the councillor said the National Drainage and Irrigation Authority (NDIA) and the Water Users Association (WUA) are the authorities tasked with that duty.