Guyanese Fashion Designer and Entrepreneur, 9-year-old Sapphire Autumn Rose was on Friday awarded the 'Golden Arrowhead of Achievement Youth Award of Achievement and Distinction', during Guyana's 51st Independence anniversary celebrations at the Brooklyn Borough Hall, 209 Joralemon Street, Brooklyn New York.
She also received two citations, one from the history-making Councilman Mathieu Eugene, who has been the first Haitian-born official to have been elected to the New York City Council, and the other citation was presented to her by Hon. Eric Leroy Adams who is President of the Brooklyn Borough.
The New York City Council Citation presented to the young designer and humanitarian, reads:
"Whereas a great city is only as great as those persons who give exemplary service to their communities, whether through participation in voluntary programs, through unique personal achievement in their professional or other endeavors or simply through a lifetime of good citizenry; and whereas, such service, which is truly the lifeblood of the community and the city, so often goes unrecognized and unrewarded; now therefore be it resolved, that as duly elected member of the New York City Council, we recognize that in Sapphire Autumn Rose, we have an outstanding citizen, one which is worthy of the esteem of both community and the great City of New York."
Rose was the only child among eleven persons honoured at the prestigious awards ceremony organized to commemorate Guyana's 51st Anniversary of Independence. The ceremony followed a cultural presentation, and a 'Taste of Guyana' reception held in the Rotunda of the municipal building.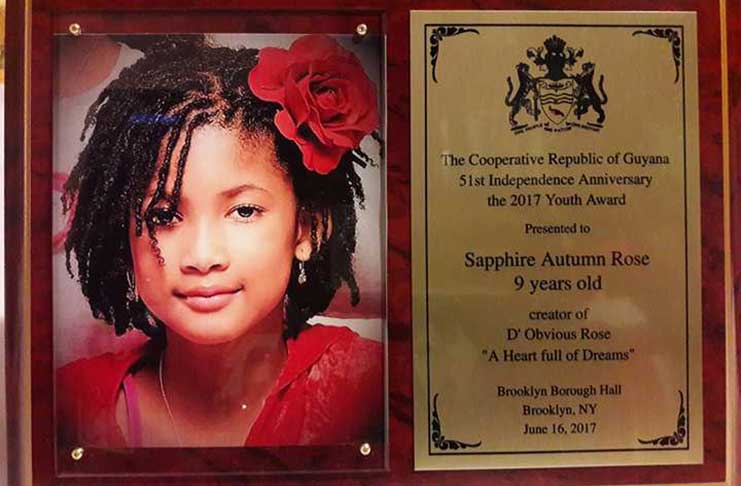 The ceremony was organized by the Guyana Tri-State Alliance (GTSA), under the patronage of The Hon. Eric L. Adams, Brooklyn Borough President and Councilman Dr. Mathieu Eugene, of the 40th Council district of Brooklyn, the Guyana Chronicle understands. This was the organization's 26th year hosting the event.
The lead paragraph in a feature of the child's life published in a special magazine by the GTSA for Guyana's Independence anniversary read, "Sapphire Autumn Rose was born to design! She has inherited her skill from both parents, Guyanese born fashion icons Michelle Cole and the late Trevor Rose, and now, at nine-years-old her star has risen."
The young designer's work was first recognized when the Sunday Chronicle Pepperpot Magazine highlighted her life and works in a feature piece published on January 7, outlining how she moved from simply setting a goal to becoming a young professional designer, humanitarian and entrepreneur while still working to achieve excellence in education.
Sapphire Autumn Rose is the daughter of renowned Guyanese fashion designers Michelle Cole of the Colefacts brand, and her late husband Trevor Rose, who together branded their designs 'Facts & Roses'.
Sapphire was awarded for her work with her 'Heart full of Dreams' project with her brand D'Obviousrose, which is marketed mainly through her website at http://dobviousrose.com.
Last month she was honoured in the USA by the international KiddiePreneur brand as a successful child entrepreneur.
When contacted by the Guyana Chronicle, Rose's mother, said her daughter felt both honoured and excited about her newest accomplishment.
Cole described her daughter as a "focused child" in whom she has always had high expectations.
"Well she told me a long time ago that she will be better than I am. My response was, 'I expect nothing less, since I am your teacher.' I expected her to do well. She is a very focused child, almost a perfectionist at times. She will try and try until she gets it right," Cole told the Guyana Chronicle.