–teaches audience how to really 'Escape'
IF you attended the first showcase by contemporary dance group, Free Souls Dance Theatre last year, then you would have no doubt expected the magnificence which permeated the entire show at last Saturday's event at the National Cultural Centre.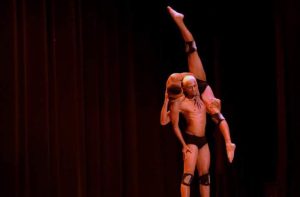 But those unsuspecting patrons who would have had their first encounter with this group were certainly in for a treat.
Known for his passion for the art of dance as well as his penchant for flair and drama, Founder of Free Souls Dance Theatre, Kijana Lewis certainly delivered on his promise of having a treat in store for the audience at the group's second showcase last weekend. Appropriately titled 'Escape', the show was a welcome mix of theatre and dance, and Kijana and team married the two so seamlessly, that it most likely set the bar for local dance shows in the future.
Moreover, the themes presented throughout the night were thought-provoking, and made even more poignant as they were communicated through sharp and often times, sexy choreography.
In the First Block, the show centred on 'Woman' and, as the title suggests, focused on both the strength and the struggles of the female sex. Much like the woman, too, the choreography was soft, romantic and at other times provocative as they told relatable stories of women, from those who searched for love and validation in the arms of lovers who did nothing but stole from them, to those who found solace in embracing their sexuality, and flipping the script to become the 'man-eater' of sorts.
SHARP CONTRAST
Then came the Second Block, which focused on 'Man'. In contrast, the choreography portrayed physical strength and machismo as the four males of the show came on stage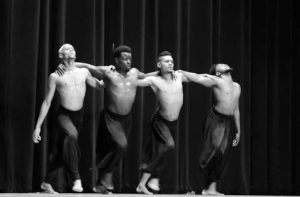 dressed in harem pants and heavy-duty boots, stomping and grunting in a show of traditional masculinity. It was here, though, that the show took an interesting turn. It is also at this moment that Kijana and team must be especially commended for tackling an issue that is often times tiptoed over: Society's expectation of man and its definition of what manliness should be, which leaves men who lead alternate lifestyles forced to live and love in the dark; a concept that was aptly portrayed by a moving rendition of Hozier's 'Take me to Church' by Paul Charles and Isaiah Luther.
Kijana then posed all the questions on the limitations placed on men who are expected to live up to the standard of society as he danced to a spoken-word piece, 'Man Up'.
The show moved along nicely, and in the second half, a bit more of theatre was infused. In 'Fantasy vs. Reality', a homely housewife searched for ways she could tap into her sexuality to please her bored and disgruntled husband; a fantasy that, while played out nicely by seductive dancers who even gave members of the audience a treat by bringing them onstage to give them lap dances, did not end up so well for the wife herself, who, after waking up, realised that it was all a dream.
Then the group revived a skit from last year which dealt with prostitution, cross-dressers and the violence that some of these workers face. This dark undertone was, however, contrasted by the comedic performances of Kijana and Paul.
By the end of the show, the audience, which, was a typical 'Guyanese 'audience with its heckling and all, was certainly satisfied.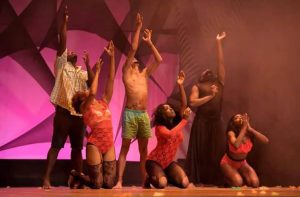 This year's crowd was indeed bigger as well, and so was the stage, which allowed the dancers for better expression. Particularly strong performances were given by the four men of the group: Kijana, Paul, Isaiah and Mwanza Glenn, while Fiano Spencer and Latoya Browne gave memorable performances as well.
And while there is more work still to be placed on synchronisation with this group, overall, their form was strong and their passion for dance shone through to the end. It will be exciting to see how much better this group gets by next year.