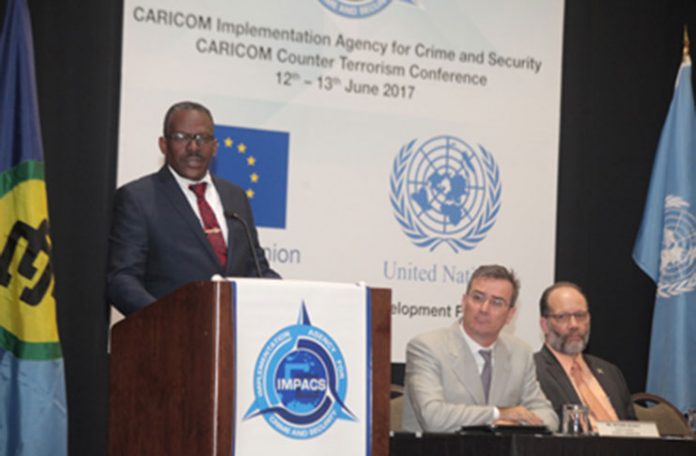 A CO-ORDINATED approach has been taken by the Caribbean Community (CARICOM) to clamp down on returning Foreign Terrorist Fighters (FTFs), including their assets.
In the next three weeks, CARICOM leaders will move to finalise plans for a CARICOM arrest warrant regarding FTFs and the sharing of recovered assets, as well as regional anti-terrorism legislation. The latter will be based on T&T's proposed anti-terrorism legislation.
The matters are proposed for signature at CARICOM's upcoming July summit in Grenada. Prime Minister Keith Rowley chairs CARICOM's security committee.
CARICOM Secretary-General, Irwin La Roque and National Security Minister, Edmund Dillon spoke about the development Monday at a CARICOM Counter-Terrorism Strategy conference.
Stakeholders all stressed the need for an urgent Caribbean anti-terrorism thrust.
"The question for the region (on terrorism) isn't a matter of 'if' but 'when'," Dillon warned.
IMPACS Executive Director, Francis Forbes, said Impacs and the U.S. are tracking "several hundred" from the Caribbean and South America who have gone to the Islamic State (ISIS) terror network.
Forbes said 200-plus CARICOM nationals have travelled to ISIS territories — fighters and families —and 130 are being tracked as alleged FTFs. The exact means of recruitment weren't clear, but all belonged to close personal networks.
Several returning FTFs are being actively monitored by regional law enforcement agencies, he added.
Monday's conference at the Hyatt, hosted by CARICOM's Implementation Agency for Crime and Security (IMPACS), involved CARICOM stakeholders and experts from the U.S. State Department, Interpol and Europe.
Dillon said main security concerns for the region posed by terrorism include the FTF phenomena — persons travelling from this region to regions of conflict, and their subsequent return.
Also at issue is the increasing influence of radical clerics and radicalised ISIS sympathisers in CARICOM States, the growing volume/accessibility of terrorist group propaganda Online and via peer-to-peer networks; and the potential exploitation of the banking system to fund terrorist networks.
Forbes noted that calls had been made by Caribbean-born FTFs (in ISIS' Dabiq magazine) for hometurf attacks. He said returning FTFs hold battlefield expertise, and the potential for "lone-wolf" attacks and can spread radicalisation. He also noted the "push" such influence can have on trans-national crime.
LaRocque, who said no country was immune to terrorism, added CARICOM's July summit will discuss the draft plan for the region concerning a CARICOM arrest warrant and sharing of recovered assets of FTFs.
"Our region can't afford complacency; one act of terrorism in one state will resonate and have implications across the region," La Roque added.
Dillon said, "The development of CARICOM's Counter-Terrorism Strategy as a road map identifying how the region should address the issue, isn't only timely but crucial for its survival.
"In CARICOM's (2013) Crime and Security Strategy, terrorism and attacks on critical infrastructure were identified as Tier Three risks, significant, potential risks. With the progressive nature of attacks by groups like Isis and 'lone-wolf' supporters overseas recently, the risk of terrorism has become far more evident in 2017."
Dillon added, "CARICOM countries must seek to criminalise and penalise acts of terrorism by nationals and non-nationals in a coordinated manner, and regional anti-terrorism legislation must be equally stringent and consistent."
"As such, the CARICOM Model Anti-Terrorism Bill and the proposed Agreement on the Return (of FTFs) and/or sharing of Recovered Assets are important tools which the region should seek to finalise as a matter of urgency. These are proposed to be opened for signature at CARICOM leaders' upcoming meeting."
(TrinidadGuardian)