– Harmon says climate, sectoral policies still not integrated
LACK of integration and coordination between climate policies and other sectoral policies have been identified by Minister of State Joseph Harmon as being among the major challenges in addressing climate change.
His view was ably supported by head of the sub-regional office of the United Nations Environment Programme (UNEP) Vincent Sweeney.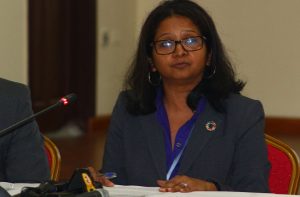 The two were at the time speaking at the opening ceremony of the UNEP Regional Capacity Building Workshop on Supporting Countries to advance their National Adaptation Plan (NAP) at the Ramada Princess Hotel on Wednesday.
The workshop attracted participants from countries across the region.
With Guyana playing a leading role globally in the fight against climate change, the minister pointed out that the government has recognised the importance of reducing risks and increasing resilience to climate change.
He said steps have been taken towards integrating climate risk into national development planning, policies and programmes, even as the country has already elaborated in its Nationally Determined Contributions to the Paris Agreement, unconditional contributions for adaptation.
Some of these initiatives being undertaken include mainstreaming disaster risk management/disaster risk reduction in the agricultural sector; sea and river defense resilience project; sustainable agriculture development programme; and improved drainage and irrigation for coastal communities and water resources management.
According to the minister, Guyana is considered particularly vulnerable to this phenomenon because of its high level of exposures and sensitivity to climate risks.
He pointed out that six of the 10 administrative regions of this country are found within the low coastal plain, which in some areas is more than one meter below high tide levels.
He said due to inherent characteristics, Guyana is regularly affected by flooding caused by heavy rains or overflowing riverbanks; drought on an annual basis heavily influenced by El Niño southern oscillation, and salt water intrusion for great distances in rivers.
Worrying though, is the fact that these natural hazards are expected to increase, due to projected temperature increase and sea level rise, together with higher storm surges, based on outputs of climate models, the minister added.
And even as efforts are being intensified to reduce these risks globally, Minister Harmon was keen to note that in the region, "there is greater need to ensure that climate risks and adaptation measures are integrated".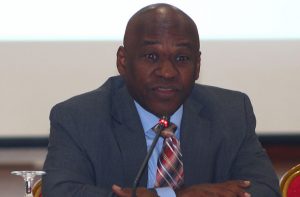 Agreeing with the minister, UNEP representative Sweeney said the integration and coordination of climate policies with other sectoral policies remains a challenge because of the operational difficulties involved.
He noted that sectoral policy and climate change have often conflicting or poorly aligned objectives. An example of these conflicting or poorly aligned objectives would be a forest protection policy versus agricultural production policy.
Another challenge in reducing the risk of climate change, he said, is the need to strengthen the capacities of local governments for action planning, to adapt to climate change in order to materialise national commitments and policies at the local level.
In considering the long-term perspective, Sweeney reasoned that it should be noted that adaptation actions have been implemented in response to a series of situations such as extreme weather events.
He added, however, that to achieve the transformational change required for low-carbon, resilient and equitable economies, a medium and long-term view is needed, that is integrated with national development planning processes and strategies, issues of gender, and also with a participatory and transparent approach.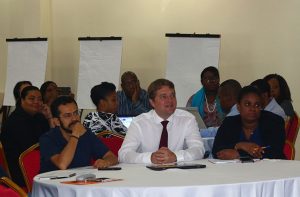 Meanwhile, United National Development Programme (UNDP) Deputy Resident Representative, Shabnam Mallick underscored the importance of the workshop in helping to strengthen capacity of public officials to develop National Adaptations Plans (NAPs), through the identification of the main tools available to develop these plans.
She noted that all countries represented at the workshop have considerable institutional, policy and planning framework in place that serve as entry points or building blocks for NAPs.
However, she noted that it is expected that those existing capacities will be further enhanced through exchanges and deliberations at the workshop which concludes on June 2.
The countries participating are Antigua and Barbuda, The Bahamas, Belize, Dominica, Grenada, Guyana, Haiti, Jamaica, St. Kitts and Nevis, St. Lucia, St. Vincent and the Grenadines, Suriname and Trinidad and Tobago.
Other participants include the UNDP and the Pan American Health Organisation/World Health Organisation (PAHO/WHO).