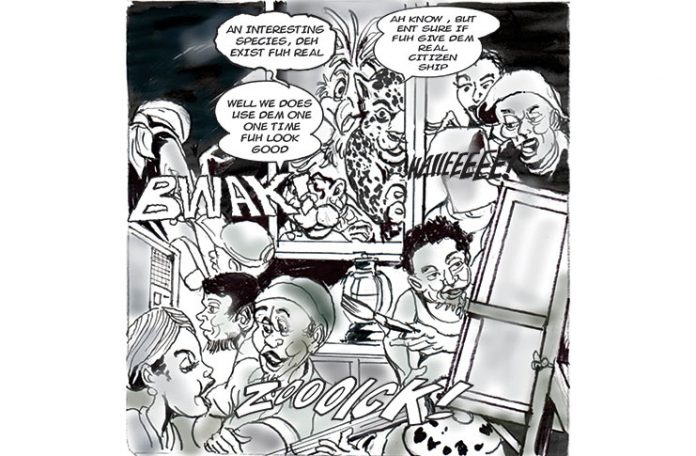 THERE was a policy during the formative post-independence years which said that graduates had to do a year of National Service. This was done to shape their awareness to the urgency of appreciating a leadership understanding and a responsible line of command to counter the bureaucratic insensitivity and casualness that the office atmosphere cultivated in its functional majority of day-to-day operations, when upon graduation, the cadres would most likely enter the workforce in a leadership position.
This innovative mechanism was, as usual, protested against by the political opposition, and, in some cases, undermined by many of those designated to execute it. Forbes Burnham understood then that if public office had to effectively support the efforts of medium and small businesses, it would require a different attitude of proactivity, guided by an awakened initiative rather than the dismissive attitude [which includes lying] to every encounter outside of a direct order, especially from areas that seem exotic, for example the arts.
We know the history of that experiment. And few of those graduates so oriented are in the system today. What I have realised through my career and engagements with officials across both private and the public sector is an absence of having any depth of understanding the arts, from its cultural aesthetics to its crucial importance to educational aids for science, technology, social awareness and industry.
I understood, and was saddened by this, when, in 2013 at Enterprise Primary in Durban Backlands, a teacher told me that children did not need to do art at that level. I was instructing students to do posters on behalf of a member of the LIONS, and there she was, insisting that they would best do it at the secondary level.
My friend from the LIONS begged me not to respond to what he afterwards exclaimed was incredibly unbelievable. The sad thing is that there are people employed across the workforce that understand, but they are swamped by the harmless and harmful clueless, and they are not in positions of authority.
It is not ministers of government that I fear in the current struggle as an advocate for the arts-based 'Cultural Industries'; so far, the ministers have given their blessings.
But the obstructions come from those "sergeant majors" whose task it is to make policy a reality. They neither designate or themselves confront! The more prevalent approach is to apply the 'middle finger', which translates to the creole saying, "Send de fool ah little further" that provides a regiment of excuses that amount to defeatist frustrations, in the hope that you, the victim, would believe that the minister didn't mean what he said, and that he knows what is happening, when in reality, he doesn't.
YEARS OF MIS-EDUCATION
It is the flaws of 50 years of mis-education vomiting on the system, a system that is now facing a different world where miscarriages of mercenary and old-school indifference are damaging to new and innovative forms of development, in this case, of relevance to cultural industries not activated within our borders only to be exact.
If we pay attention, one clinical glance would reveal that the rest of CARICOM have arrested the fragmented muses that compose Cultural Industries, and have long past the incunabula stage to formidable mature expressions.
The president has advocated the development of new infrastructure, which means the inculcations of new procedures and perspectives to empower expanded faculties to think outside of the box. Most of us outside of the 'Bee Hive' are already there.
The study guide for the 'Public Bee Hive' is not yet printed; perhaps if enough humility exists, we externals can conduct some workshops. Too long have the Arts, which nature produces at a not too generous ratio among the tribes of men, have been forced to survive by exiling themselves in other countries, among them the Islands.
The talents exist, and some of us are old enough to remember the old Department of Culture, which was then managed by talented and accomplished arts personnel. That period is responsible for the core of the functioning artists that occupy inspirational space in Guyana today, who are products of that sadly undocumented age [The Diaspora constitutes a greater volume of those talents] not so long ago.
Much is amiss in the development of the arts today, and it begins with giving fair value to creative talents. And I'm not talking here of putting handouts on an empty table, but rather responding to the potential of the creative work already on the table.
My other apprehension is that our unsure "sergeant majors" have become accustomed to praising those credited overseas, but lack the consciousness and courage to recognise and 'value', in coin and spirit, what transpires locally, fearing, perhaps, that if in acknowledging what is accomplished on the table in their presence and its potential, then the next step will require the exploration of new precedents.
And there is a lack of WILL to enter the midst of practically supporting Cultural Industries, especially if it means to be led by those who have been there; those who are the State's illegitimate children: Its artistic community.
And the question abounds, "Do such fears in today's world reflect enlightenment and progress for our nation, or rather a retreat into the older Guyana, of the Land that Time forgot?"