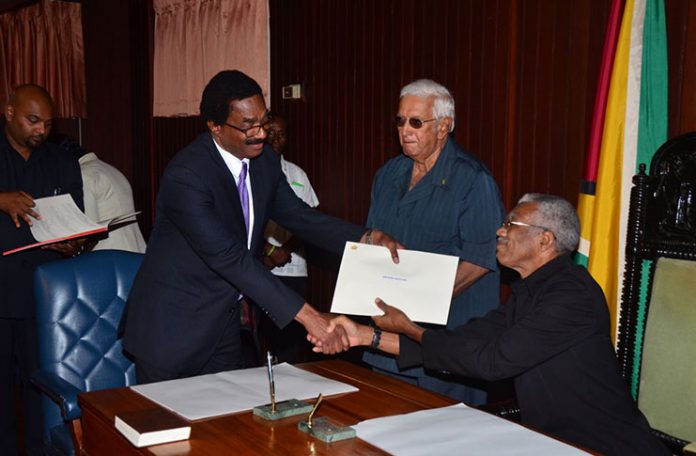 …President says AG was not contemptuous of Judge
…satisfied with his explanation
PRESIDENT David Granger says he sees no need to ask Attorney General, Basil Williams to issue an apology to Justice Franklin Holder, saying he is satisfied that the AG was not contemptuous and that if the Judge felt so, he knew what he had to do.
"He did not cite the Attorney General for contempt and, as things stand, I feel that the explanation given to me by the Minister of Legal Affairs adequately deals with the complaint which I received," President Granger told the media on the side line of a State House function on Wednesday.
"Under the circumstances, I cannot see that there was anything which could have warranted him being cited for contempt of court. As I said, his behaviour was not being contemptuous so in that regard there cannot be any justifiable call for an apology because his behaviour was not in contempt of court," President Granger added.
Additionally, Chancellor of the Judiciary (ag), Justice Cummings-Edwards told reporters that as far as the judiciary was concerned, the matter has been addressed. President Granger's comments would deal a big blow to critics of the AG and those who have been intensely lobbying for his sanction.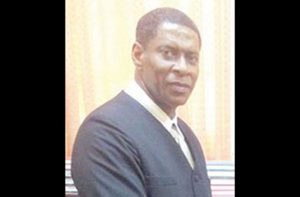 Justice Holder in a letter of complaint addressed to Chancellor of the Judiciary (ag), Yonette Cummings-Edwards, which was forwarded to the President concerning the AG's alleged conduct in court on March 23, 2017 during the Carvil Duncan trial, had contended that the Attorney General's statements in the court, were disrespectful and contemptuous and demanded a "genuine and meaningful" apology.
The issue had come to the fore when Attorney-at-law, Anil Nandlall went public with claims that Williams had threatened to kill Justice Holder, causing the judge to walk off the bench.
However, in his letter of complaint to the Chancellor, Holder said he left the bench because of an alleged statement made by Williams, which is: "I could say what I want to say and however I want to say it, I have always been like that." The judge said he found the statement to be egregious. "Immediately after hearing these words, I rose from the bench and went into my chambers. I did not adjourn the matter, nor did I give any instructions to the parties," Justice Holder mentioned in his letter of complaint.
After being forwarded the letter, President Granger had called on Williams to explain the matter. Williams, in addition to maintaining that he would not apologise said there was no merit to Justice Holder's allegations of contempt, saying that at no time was he disrespectful, insulting or contemptuous. Alluding to the Contempt of Court Act Chapter 5:05, Minister Williams pointed out that there are provisions in the law for a Judge, presiding in a court, to cite and punish persons for contempt.
Because Contempt of Court is a criminal offence, the Attorney General argued that Justice Holder was required under the Act to inform him of the offence committed before adjourning the matter on the same day.
"Justice Holder did not inform, warn or in any manner convey to the Hon. Attorney General that he considered he was being contemptuous before he left the courtroom that day and was therefore functus officio. Justice Holder could not lawfully, almost two days later, by letter purport to raise accusations of contempt against the Hon. Attorney General for what he alleges occurred in his court previously," Minister Williams argued.
In his letter to the President, he stated too that Article 144 (8) of the Constitution requires a Judge to give notice to the Attorney-at-Law in Court on any behaviour which is contemptuous, insulting, disrespectful and despicable in the face of the Court.
"On a proper perusal of his letter of Complaint, the Learned Judge purports to list seven instances which in his opinion amounted to contemptuous behavior, yet in not one of them informed the Hon. Attorney General he was close to committing contempt or warned him or in any manner giving him notice of misbehaviour, or charged him for contempt," he told President Granger.