By Zena Henry
CANADA-BASED Green Heart Tree Energy Guyana Inc is about to take the local construction industry by storm, with the introduction of eco-friendly building materials that will literally revolutionise the way structures are built in Guyana.
The Guyanese company which is owned by majority shareholder and Chief Executive Officer (CEO) Esmonde Klass, is also interested in building a factory to manufacture materials locally to ensure access by all levels of income-earners.
Klass told the Guyana Chronicle that his company is offering Guyanese green, fire-proof, easy-maintenance homes that are built to international standards.
The CEO said his company has taken an existing construction technique and perfected it, using certain technologies. Having gone through rigorous testing and procedures, the company is the proud, patented owners of NGO boards, which has quality approval from the European Union (EU).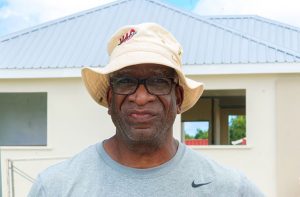 NGO boards are green, so they are ideal for persons who suffer with allergies. They are heat absorbers and therefore keep the home cool, and serves a worthy element in preventing house fires, Klass related.
Homes built with NGO boards are prefabs, which mean they are manufactured off-site and transported. Jerry Dziedzic, the company's project coordinator explained.
He said the house could be assembled at the factory or on-site, and with the right equipment it could be completed in just two days.
Green Heart Tree Energy Guyana Inc is building two model homes for the Ministry of Housing's upcoming Housing Expo. A three-bedroom, 75 sq. metre house which was being assembled would take the company two days to complete.
Dziedzic said once the portions are set right into position, then they can be anchored, a roof vapour barrier will be laid and then the galvanised sheeting.
The NGO boards could be painted, cladded or laid with bricks. Anything done to a regular concrete or wooden house could be done to the boards. As it relates to extensions, Klass said that it is easier than having to destroy a concrete wall or hammering off wood when the entire NGO board could be lifted away.
POSITIVE OPTION
All this makes the NGO board home a positive option for persons with low budgets, Klass opined.
Green Heart Tree Energy Guyana Inc is expected to demonstrate the fire-resistant nature of its material at the expo. The company told the Guyana Chronicle that NGO boards provide greater opportunities for saving lives in the event of a fire.
This is because it would take some 20 to 30 minutes before the material could actually start to deteriorate under heat and around one hour for a house to be engulfed.
"Fire is fire anywhere, it is destructive," Klass said, but acknowledged the greater chance that exists in saving lives.
NGO boards are made with magnesium oxide. While the end result is a green, beneficial construction material, the creation process is not that eco-friendly.
Klass said the process of making NGO boards is "messy." It involves the crushing of stone and burning it into a powder with the addition of other materials. To protect the environment, care must be shown during the process.
The company is nonetheless hopeful of establishing an NGO board factory here.
"Our plan is to build a factory and manufacture the material," Klass said.
The only difference between his boards and local construction materials is the manufacturing content, but the material is just as reliable or even better.
The CEO is convinced that once manufacturing of this material starts in Guyana, it will be in high demand.
The factory will operate 24 hours with three shifts, employing as much as 100 persons for a start. Production of the material is not a difficult task and Klass believes Guyanese will catch on quickly.
He said that there is a Polish team currently working in Guyana and they are transferring their knowledge to the Guyanese team employed with the company.
Outside of building construction, Green Heart Tree Energy Guyana Inc provides solar services. With every home they build in Guyana, there will be a built-in system that allows each household some five hours of free, independent electricity.
"From dusk to five hours afterwards, there will be complete electricity, independent of the Guyana Power and Light (GPL). Every home we build in Guyana will have that," Klass said.
The CEO said it took millions of dollars to complete engineers' tests, patent and other processes to make the material fit for the market. Klass is excited to see the response of Guyanese to the product, since he is also interested in targeting the Caribbean market for export.