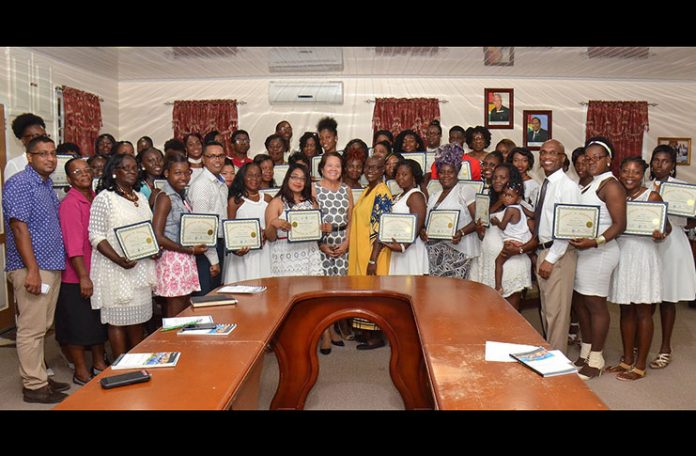 SOME 44 Region Five residents recently completed a Self-Reliance and Success in Business workshop designed to enhance their entrepreneurial skills with First Lady Sandra Granger urging them to continue believing in themselves.
"You are the people who make these workshops possible and successful.  It starts with you believing in yourself first and in your capacity to do things and move on and develop [by] believing in life-long education," Mrs Granger said.
She also noted the importance of having a recognised certificate backed by strong business entrepreneurial skills.
"One of the benefits from this project is that Interweave stays with you… the certificate you have gained is a certificate that is recognised by the Small Business Bureau, by IPED, and other institutions… and you will have their full support."
Guest speaker Janice Whyte, an expenditure-planning and management analyst at the Regional Democratic Council, charged the participants to put their newly-acquired knowledge into practice.
"Do what you know [and] do what you like best.  What you get out of your business, will be what you put into that business… take what you do seriously and grow," Whyte said.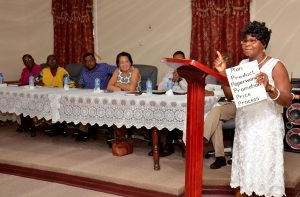 Yohann Sanjay Pooran, facilitator at Interweave Solutions Incorporated, who gave a brief overview of what the workshop entailed, noted that a total of four groups has been formed among participants in the workshop.
Three groups plan to tackle social issues affecting their communities, such as unemployment, domestic violence and teenage pregnancy, while one group will focus on drainage and irrigation.
Pooran proudly spoke of the accomplishments of the participants.
"I anticipate that there will be 44 strong entrepreneurs coming out of this area… [You] have bright ideas and I'm sure that you will take those ideas to the next level," Pooran said.
This event marks the 15th session of its kind. To date, over 300 persons have been trained under this programme.
The training sessions are a collaborative effort between the Office of the First Lady, the Ministry of Social Protection and Interweave Solutions Incorporated.
Having completed the training, the participants were eager to share their experiences.
"I realised that with my small business [and] the little that I gained here, I would definitely try to improve my business," small business owner Ambrozine Thomas said.
Mabelene McDonald, who does knitting, said she plans implementing what she has learned to successfully manage her business.
Additionally, Odella Peters said: "This workshop is very beneficial for us, since a lot of women in Region Five are not exposed nor fully equipped; this programme has helped us out a lot."
The event was also attended by Member of Parliament Jennifer Wade, Deputy Regional Executive Officer of Region Five, Govind Singh and several other regional officials.