IN the business world, one of the keys to staying competitive is to ensure that your brand is ever evolving, especially in a saturated market. Business owners must constantly seek new niches in order to attract new customers and to retain existing ones.
Guyana's budding makeup industry has become one of those saturated markets, but makeup artists are quickly catching on to the new trend of evolving their businesses to stay competitive through the introduction of locally-branded makeup products.
Makeup artists (MUAs) like Tenisha Garnett-Billington and Renee Chester were among the first to launch their pressed glitter palettes, and now, makeup artist Janica Sandy has taken it a step further with the official launch of her "Image Cosmetics" line tomorrow at her Ultimate Image Studio in Gordon Street, Kitty at noon.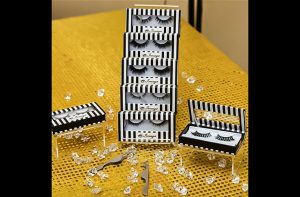 As the first phase of its launch, "Image Cosmetics" will, for now, just feature a collection of luxury mink eye lashes and eight-piece makeup brush sets.
"The mink lashes can be worn up to 30 times, are lightweight, and comfortable to wear because of the soft light fibres," Janica said.
"The brush set comes with a makeup bag, and the brushes provide impeccable application for any makeup user," she told The Buzz Thursday.
YEARS IN THE MAKING
The MUA said that though she's only just launched, the idea for her own line of makeup was years in the making. "The thought of launching my own brand came after I was unable to source basic necessities of a certain quality to apply makeup and enhance my work," she said.
"So these products are among some of the best quality of tools any makeup artist would need."
But her work won't stop there, as plans to expand the brand to offer a wider range of cosmetic tools are in the making. "I will continue to aim for the sky with continuous support and encouragement since my ultimate goal is to become an internationally renowned celebrity makeup artist," she said.
Janica agrees that with the saturated makeup industry, makeup artists must branch out into different areas in order to attract new clients.  "There are lots of things that we can do to diversify," she said. "I think makeup artists should come up with different ways to advertise, and to get their name out there. Branding is also very important, so that people can identify with who you are."
She is encouraging makeup artists to become more creative by looking into how they can launch their own products to show their originality.
"Customers are likely to pay attention to products that have a brand they can identify with, and can also look to support local makeup artists who have established themselves. But most importantly your product has to be of quality," she said.
Image Cosmetics products are available only at Janica's Studio, but the MUA hopes to have the product distributed to local outlets in other parts of the country.