CABINET has given approval for two ministers and several public servants to attend international training programmes in their respective areas of expertise.
This is according to Minster of State Joseph Harmon, who addressed the media at his post-Cabinet briefing at the Ministry of the Presidency on Thursday.
Minister of Public Telecommunications, Catherine Hughes, will attend a workshop on the Internet Of Things (IOT) under the theme, "Smart Living in the Caribbean and digital financial services."
The event will be held in Trinidad and Tobago from April 24- 28, 2017. ICT advisor within the Ministry of Public Telecommunications, Lance Hinds, will also attend.
Harmon said the workshop will bring together ICT leaders and technical officers of CARICOM and to begin the development of mechanisms for promoting the concept of the IOT and the full digitalisation of digital tools to improve the delivery of financial services.
He said the minister will deliver a presentation during a panel discussion on privacy and information security, Caribbean rudiments and challenges.
Minister within the Ministry of Social Protection, Keith Scott, will also represent Guyana at the Inter-American Conference of Ministers of Labour of the Organisation of American States (OAS) to be held in Asunción, Paraguay, on April 28-30.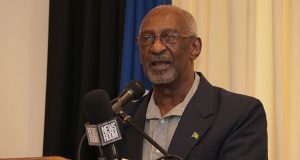 He said the conference will address issues such as the transition of informal to the formal economy, labour equality and the elimination of employment discrimination, strengthening of labour laws, social protection and child labour, and strengthening labour administration.
Cabinet has also granted approval for Deputy Superintendent of Police, Rafeek Ali, to participate in an Interpol-sponsored training programme to be held in Buenos Aires, Argentina, from May 30, 2017.
The training programme will discuss matters and address issues regarding the capabilities of firearms.
Meanwhile, Police Inspector Prem Narine will attend another Interpol-sponsored round-up and asset-training programme to be held in Singapore from May 22-26, 2017.
Minister Harmon said the training will equip participants with the knowledge to disrupt criminal networks responsible for organising financial crimes, locate and arrest fugitives wanted at the international level, as well as criminals who left their national jurisdictions to evade justice.
Cabinet has also approved the attendance of retired Colonel Chabilall Ramsaroop at the Global Platform for Disaster Risk Reduction to be held in Cancun, Mexico, from May 22-26, 2017.
He said the event will provide an opportunity to review global progress in the implementation of the framework for disaster risk reduction, which was adopted in Japan in 2015.
Approval was also granted for legal officer of the Childcare and Protection Agency, Telisha Williams, to attend the Convention to the Rights of Persons with Disabilities scheduled to be held from May 1-4, 2017, in Trinidad and Tobago.
This workshop seeks to raise awareness among Government officials about the convention on the rights of persons with disabilities.
National Science Coordinator, Petal Punalall-Jetoo, will represent Guyana at a major conference on science, technology and innovation in the Caribbean to be held in Trinidad and Tobago from May 3-4, 2017.
The conference aims to identify strategies to strengthen cooperation so that science, technology and innovation can be used more effectively to promote socio-economic development in the Caribbean.