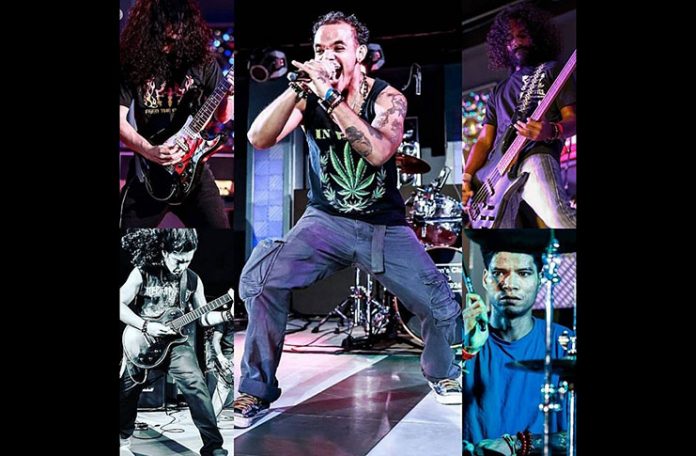 LOCAL Heavy Metal band, Feed The Flames (FTF), is currently in Trinidad to perform at the Skyy Rock Festival, scheduled for tomorrow and Sunday night.
This is the second time the band will be taking their Guyanese sound to the twin island for this event, having first performed there last year at a rock event called 'Lynchpin vs. The World'.
The band was very well received, and was almost immediately booked for this year's Skyy Rock Festival.
On the first night, FTF will be performing a set of original material while launching their debut studio album titled 'Kyk-Over-Al', the title being a tribute to the famous Dutch fort on the Mighty Essequibo River.
The album features six original compositions, as well as a special bonus track, a rock version of Guyana's National Anthem.
On the second night, the band will be presenting some Creole Rock, where Gavin Mendonca's 'Creole Rock: The Beginning' will be launched in that island.
The Band will also collaborate with Josi, a local artiste who hails from the town of Linden.
The band is excited to once again represent Guyana at this event, and for its double album launch. 'Feed The Flames' will be representing their own unique style of Guyanese Culture, in the form of Rock n' Roll.
ANNUAL EVENT
Skyy Rock is an annual rock festival held in San Fernando, Trinidad. This year's edition is a three-day event which begins today.
The first day will take the form of a Music Industry Conference, allowing Rock musicians in the Caribbean region to gain a better understanding of the business of music, while learning how to reach an international audience.
Tomorrow and Sunday nights will see a total of 20 Caribbean Rock bands performing, 18 of which are from Trinidad. 'Feed the Flames' is therefore among the only two foreign bands, with the second group, 'Aeons of Disorder', hailing from French Guiana.
It is the largest Rock Festival in the Caribbean, and a forum that encourages and allows young people to invest in their passion, and live the dream of being 'Rockstars', right here in the Caribbean.
'Feed The Flames' recently hosted their own local rock concert, with local band 'Rock United Musicians', and 'Revolt' all the way from Suriname.
The show was a huge success and a huge step forward for the Guyanese Rock Scene, proving that FTF can offer an alternative source of live entertainment, with the energetic phenomenon that is Rock n' Roll.
'Feed The Flames' has expressed gratitude to all the persons who have supported them over the past eight years since the band was launched, and their sponsors who helped them to produce the album and travel to Trinidad.
Those sponsors are: Chetson's, Sankar's Auto Works, Radio Rock n' Roll, Howard's Restaurant, Zoon, The Other Place, and Fraser's Batter Service.