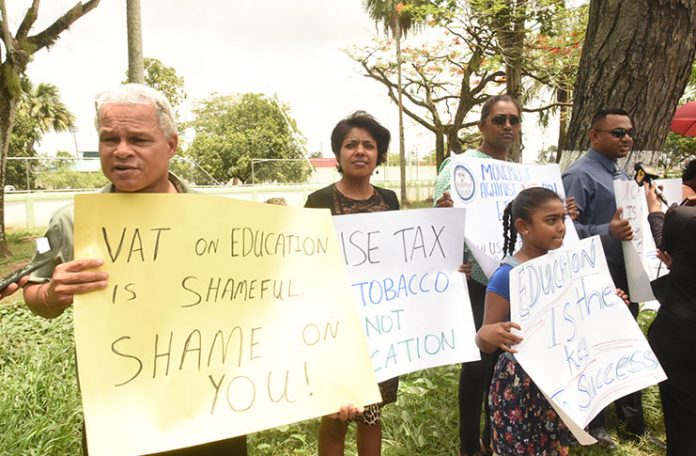 A group of persons on Wednesday protested in front of the Ministry of the Presidency, calling for the 14 per cent Value Added Tax (VAT) on private tuition fees to be immediately suspended.
The group, which has held several smaller protests in the past in support of their position, had submitted to the Government a petition against "VAT on education" signed by 14,000 persons.
Students, teachers, parents and members of civil society held placards that read "Education is the key to success", "Raise tax on tobacco, not education", "Education is the key to our future", "Vat on Education is shameful" and "Think before you Tax".
"The majority of students attending private educational institutions in Guyana are from humble backgrounds and can only attend these places of learning as a result of the sacrifice of their family," one parent said.
Jonathan Yearwood, another of the protestor,believes that the amount which will be garnered by VAT is $350M and that amount will dwindle each time a student drops out of private school, which will result in far less than expected because of the pressure being mounted on private education.
"I would suggest that Government put on hold VAT on education, and certainly not much though went into the idea of VAT on education," he said.
Another protestor, who spoke on condition of anonymity, contended that the President has said he wants an educated society and more persons being qualified, but VAT on private education does not mesh well with his plan.
Some of the protestors say they have children who attend private educational institutions and the VAT on education is a "burden" too much for them to handle.
President David Granger had said the 14 per cent VAT on private institutions will stay for now.