COLIN Ross of Lot 14 Kildonan Village, East Berbice Corentyne appeared before Magistrate Rabindranauth Singh at the Number 51 Magistrate's Court, charged with the murder of his father, which occurred on April 10, 2017.
The 52-year-old father of two was not required to plead to the indictable offence and was remanded to prison until May 8, 2017. It is alleged that on the day in question, Ross murdered 82-year-old Rudolph Ross in the course of arson at the dwelling house.
Ross, who did not have legal representation, told the court that he was a farmer; his case was transferred to the Whim Magistrates' Court.
On April, 10, fire ripped through the home of the older Ross and his charred remains were later found lying by a window on the eastern side of the two-storey wooden and concrete structure. The fire reportedly started at 03:00hrs in the kitchen, located in the upper flat of the house.
The elderly man resided with Colin Ross, who was not at home at the time of the fire. However, the younger Ross arrived five hours after and reportedly gave conflicting stories of where he was at the time of the fire. He was subsequently arrested and after days of interrogation he admitted to being at home when the fire started.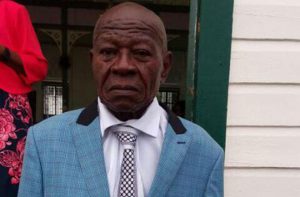 He however told investigators that an electrical appliance was left on. This newspaper however understands that on the day in question, the father and son had an argument and he [Ross] left the house with his belongings.
A neighbour, Brian Jackson, 41, told Guyana Chronicle that he was awoken by loud cries for help from the elderly man. Jackson said he immediately summoned help and a bucket brigade was formed in an effort to save the elderly man. Ross was trapped due to grille work, the thick smoke and intense heat. Brian explained that while the bucket brigade was trying to douse the inferno, he and another neighbor tried to get the senior citizen out but had to retreat after the heat became too much.
Ross, a father of seven, was described as an avid church member and a respectable individual in the community. He once served as the Overseer of the Bush Lot/Adventure Neighbourhood Democratic Council.