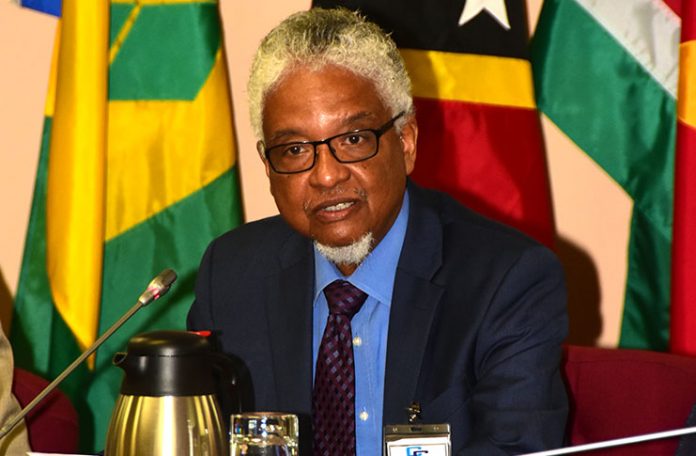 — at opening of 32nd COHSOD on Youth and Culture
THE SUCCESS of a regional strategic plan to transform the education sector within the Caribbean Community (CARICOM) hinges on the emphasis by regional Governments to
mobilise interest and enthusiasm in deprived communities.
This is according to Professor Nigel Harris, Chancellor of the University of Guyana, who was speaking on Friday morning at the opening of the 32nd Meeting of the Council for Human and Social Development (COHSOD) (Youth and Culture) at CARICOM headquarters, Turkeyen. The two-day meeting concluded on Friday.
According to Professor Harris, he is encouraged by COHSOD's latest initiative to construct and design a strategic plan aimed at transforming education at every level in the region. He said a draft of the plan speaks of professionalism, and according to him, it captures the challenges the region faceS, while at the same time outlining "cogent initiatives".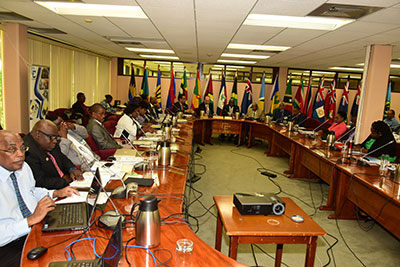 He said as a veteran of strategic plans, the issues faced by the region includes buy- in, enthusiasm, financial resources and sustained interest of countries involved. He said the initiative will need to cover "the many undeserved communities," which he noted accounts for many of the adverse outcomes.
"Success in education is so dependent on one's social and economic circumstances," he told a room of regional leaders in the field of education, including chair of COHSOD, St Vincent and the Grenadines Education Minister, St Clair Prince.
"A critical element of success of the strategic plan will depend on Governments emphasising the need to mobilise the interest and enthusiasm of deprived communities which lack the family support, economics and other factors necessary for the full intellectual and emotional growth of their young people," Professor Harris said.
He said many of the leading scientists and business leaders globally are from the Indian sub-continent and other parts of the world, where the primary and secondary systems mirror that of CARICOM.
He told the gathering that the likelihood of leaps and knowledge today is much greater, where education and imaginative people have access to a structure in which the mass population, including those with ideas has the support of a well-resourced infrastructure.
Professor Harris pointed out that while the region's education "do need" transformation, there are many who have or are emerging from the system and have done and are in the process of moving on to perform "remarkably well".
He noted however, that children in circumstances without stability or financial support "may flounder no matter how the education system is".
The COHSOD chair charged that as economies in the region develop, there is need for the exploration of skills and the competency required for national and regional development, as well as global competitiveness.
Prince said the CARICOM region is quickly becoming a repositioned environment, while stressing the importance of investment in human capital.
Prince noted that if Governments of the region and CARICOM recognise its global position and potential, then there is need to address issues in order to transform the education system, as well as society.