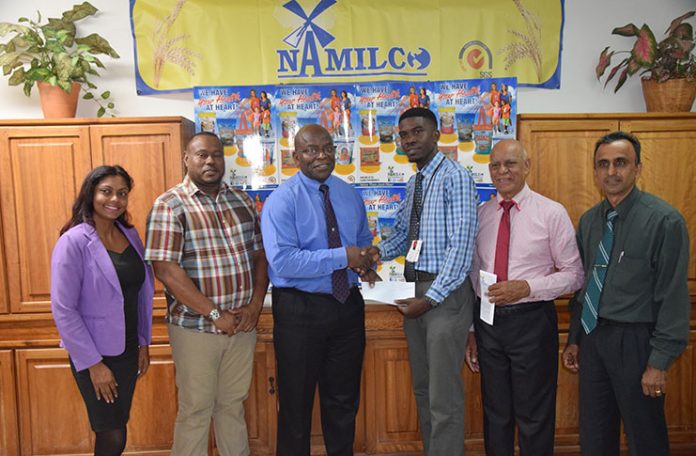 … Sparta, Tucville advance
THE National Milling Company (NAMILCO) is on board with the Petra-organised Futsal Championships as the tournament heads into the quarter-finals following the last of the round-robin nights on Thursday.
The tournament will see Sparta Boss join Tucville, Sophia, Back Circle, Bent Street, North East La Penitence, Gold is Money and Broad Street Bullies in the next round, with the representatives of the company indicating that they are satisfied with the tournament.
Finance Controller of NAMILCO, Fitzroy McLeod, handed over the second place prize worth $200 000 to Petra Organisation co-Director Troy Mendonca in the presence of officials from both organisations.
McLeod spoke of the strong relationship between the two entities, informing that though the particular event is just two years old, the bond goes back much further.
Mendonca in his response thanked the company for its unwavering support for the organisation and its programmes, adding that it clearly demonstrates the entity's commitment to uphold its social responsibility.
Meanwhile, in Thursday night's action, Back Circle, through a brace from Stephon McLean (22nd) and (26th) as well as single strikes from Akeemo Anthony (12th) Curtez Kellman (13th) and Selwyn William (25th) beat Agricola 5-0.
In the second game, West Back Road took a 7-1 beating at the hands of North East La Penitence with a hat-trick from Calvin Moore (1st, 3rd and 18th), an Omallo Williams brace (5th and 29th) and single strikes from Shaquille Browne (2nd)
and Romario Andrews (8th)
West Back Road had Jarel Tyrell (25th) on target.
Broad Street Bullies bullied their way past Albouystown 5-0 thanks to three strikes from Darren Benjamin (10th, 21st and 27th) and two from Kevin Cummings (11th and 17th).
Tucville also won on the evening, overturning Gold is Money 3-1 thanks to Jermin Junior (5th), Dennis Edwards (12th), and Jahal Greaves (14th) while Carl Tudor (10th) was on target for the losers.
Bent Street beat Sophia 4-2 after Konata Mannings' double (20th and 22nd), Colin Nelson's 8th and Joshua Browne's 26th overturned Dwayne Lowe's 16th and Joshua Kamal's 21st.
In the final game of the evening, Sparta thumped Tiger Bay 4-2 with Devon Millington scoring three (10th, 16th and 24th) along with Sheldon Sheppard's one to qualify for the next round.
Deon Alfred (14th) and Alpha Fletchman (21st) were on target for the losers.