MINISTER of Public Health, Ms Volda Lawrence has ordered the Board of the Georgetown Public Hospital Corporation (GPHC) to launch a probe into the recent expediting of the purchase of critically needed drugs and medical supplies.
This was told the media late Monday by the minister during a press conference at the National Communications Network, where she sought to clear the air as to why she took the decision to spend $605M on sourcing the drugs from the Trinidadian firm, ANSA McAl.
She said the reason she's ordered the investigation into the matter is so as to put to rest speculation in some quarters that she'd overstepped her bounds when she took the decision to fast-tract the purchase of the drugs, rather than wait for the requisition to go to tender as is the norm.
She said that in the circumstances, she wrote GPHC Chairman, Mr Allan Johnson last Thursday, asking that he conduct an investigation into the procurement process used in this instance, and will be allowing the Board to conduct the investigation independently.
Seizing the opportunity to explain at length the immediacy of the need to source the drugs expeditiously, as was done, Minister Lawrence told media operatives that having learnt of the shortage of drugs at the Georgetown Public Hospital Corporation (GPHC), she summoned its Chief Executive Officer and Chairman among other officials to a meeting to ascertain the level of the crisis, so that together they could remedy the situation as early as possible.
DELINQUENT SUPPLIERS
She said that based on their meeting, she learnt from the medical officials that the institution was short of over 200 types of drugs, and that this was as a result of delinquent suppliers who had indicated their inability to fulfill their contractual arrangements.
"This has created a gap, and in order to fill that gap, the hospital was buying these drugs from private institutions," Minister Lawrence said, adding:
"And that is quite alarming to me; that put a strain on the hospital to be able to dispense the services, and hence there was now a crises."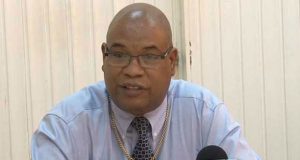 She said that having learnt what she did, she immediately called for a drug inventory, which found that there was a shortage of a whopping 287 drugs.
It was at this stage, the minister said, that she engaged the medical officials on the fastest way to source these drugs, since the 2017 tenders had not gone out as yet.
"We looked at a two-week period in order to address the issue," she said, "and we decided that what we can do is look at the shortlist of companies and ask them to bid on the items.
"Subsequently, I was informed that the documents were prepared, and that the four companies had uplifted them, paid for them and bid for the items.
"Then I received a call one morning indicating that there was a contract for ANSA McAl in the sum of $600M-plus; I asked that that be pulled. I said I would like to see it; that I wanted to know why."
In response to her queries, the minister said, she was told that the Trinidad company was the first to respond to the bid for that amount of drugs, and because they were given a two-week deadline, and again because of their having to fly the drugs in from Europe, it would take costs to $605M. Lawrence said it was imperative that the drugs were needed for chronic illnesses such as hypertension and diabetes.
NO USURPING OF POWER
Responding to allegations from the People's Progressive Party (PPP) and other quarters that what she did was tantamount to usurping the power of the GPHC Board and a contravention of tender arrangements, Minister Lawrence said that at the time, she had to take a decision as there was no Board in place at GPHC.
PPP Member of Parliament, Bishop Juan Edghill on Monday at his party's weekly press conference called for Lawrence to resign.
He also called for the GPHC Board to produce the minutes showing that the matter of the drug shortage was discussed as the level of the Board, and that a request was made for the acquisition of these drugs.
He gave as the reason for his demands his belief that Minister Lawrence, in her attempt to usurp the powers of the Board, gave them a directive to purchase the drugs from a particular supplier without the permission of the National Tender Board.
"If the Chairman of the Board and members of the Board cannot produce that, then they are all figureheads; they are puppets being controlled by the master, and they are not fit for public office," Edghill said, adding:
"They should depart gracefully and go into some other area of activity where they could find satisfaction."
He also said that Minister Lawrence's interference in such pertinent matters at GPHC "is dangerous to our public purse."