AN 18-YEAR-OLD boy was reportedly stabbed to death by his older brother after the former had refused to lend the accused his motorcycle.
Dead is Vishal Sahora called "Daniel",18,of Lot 82 Yakusari , North Black Bush Polder, Corentyne,Berbice.
According to reports,at around 21:00hrs on Sunday,Vishal was with several friends and his brother Romel Sahora, 21,at a friend's home a short distance away imbibing. It was while being there that Romel tried to borrow Vishal's motorcycle and was refused. An argument ensued between the two brothers, resulting in Romel slapping Vishal,explained Samuel Sahora,a younger brother.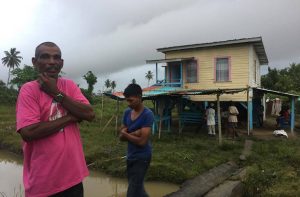 He told the Guyana Chronicle that both of his brothers continued to argue,then Romel whipped out a knife and mortally wounded Vishal. "Them two start scramble and them fall down ah ground and then Romel get up and Daniel nah get up;when we check we(see)he bleeding, it look like he get one bore on he chest," Samuel related.
According to reports the younger brother, who was employed as an electrician at a Rice Mill located at Branch Road, Yakusari, died as a result of a single stab wound to the region of his chest.
Daisy Hargobin, mother of the boys,said the brothers did not usually fight and it is heartbreaking that the incident happened this way. "This like me lose two of my children;one dead and the next deh lock up, he tell abee he nah know what happen till morning when he ketch heself,he know he kill he lil brother,he sorry he do it…" the mother related tearfully.
Hargobin recalled when they received the call about the incident they were not told of the magnitude of what occurred. "We only hear them fight but when we reach he de done dead;he died before he reach the hospital," she related.
Meanwhile, Romel Sahora was arrested and is currently in police custody assisting with investigation.