… Suriname's Ramcharran cops Champion driver title
NOT even the rains could have quelled the enthusiasm of the crowd that turned up on Sunday for the season-opening drag race meet of the Guyana Motor Racing and Sports Club (GMR&SC) dubbed Reaction.
The early morning showers had very little bearing on the afternoon crowd that ended the day in fine style with team Mohamed's Enterprise Goliath resetting a new strip record of 7.5 seconds.
The only car registering that time, the blue GTR was left competition-less, decimating its brother, Nismo as well as several bikes with driver Josh Ramsey taking that trophy.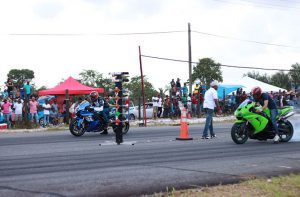 Meanwhile, a specially organised exhibition between the GT-R and eight-second winner Shawn Persaud had to be scrapped due to a false start on account of the starter.
Persaud, who drives a Toyota Caldina won the eight-second class hands down as he easily overcame the challenges of the two Surinamese cars that were in his class.
The nine-, ten- and eleven-second class belonged to Suriname's Vishal Ramcharran, who piloted his Toyota Mark X to three consecutive titles, including the final race of the day against his fellow Surinamese.
In the twelve-second class Raymond John took the trophy while Imran Khan and his Toyota took the 13-second class for a record third time.
Sunil Singh and Devindra Persaud won the 14- and 15-second classes as the day closed with one of the largest crowd-shows ever for a drag-racing event.
In the bike class, Rajiv Lallbeharrie of Suriname took the top award.
The next event in the calendar is the first Race of Champions billed for April 2.