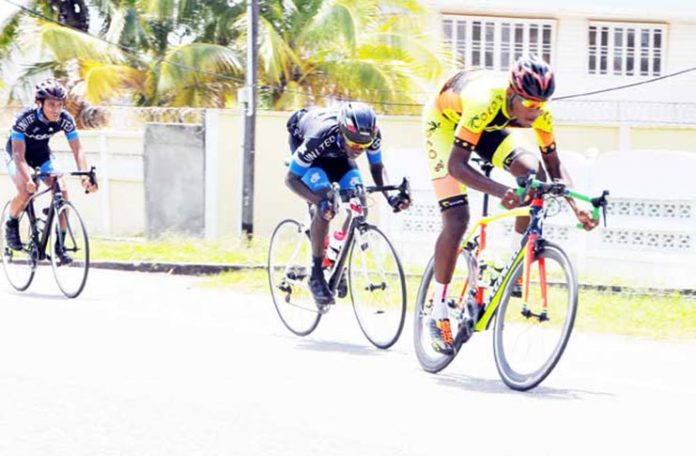 TEAM Coco's Jamal John edged Team United's Andrew Hicks across the finish line to win the Guyana Cycling Federation's (GCF) 70-mile points race last Sunday.
John's time for the event attracted a mere 18 starters outside the Ocean View International Hotel, East Coast Demerara. The cyclists proceeded to Mahaicony before turning back to finish at the same location. John's time was two hours 37 minutes 10 seconds.
This was John's second win in as many starts for the GCF's 2017 season. His first was last month when he won a 75-miler in three hours 20 minutes 23 seconds. That event started on Homestretch Avenue in Georgetown, proceeded to Loo Creek on the Soesdyke/Linden Highway before turning back to finish at the place of origin.
With the two victories to his name, John heads the points table with 30 points.
Hicks earned 12 points for finishing second on Sunday and his teammate Raphael Leung placed third for 10 points.
According to the GCF, the points accumulated will play a major role in the selection of local cyclists to represent Guyana at Regional and International levels when the time arises for such selection process.
Veteran cyclist Junior Niles continued his fine form but had to settle for fourth place in the 70-mile race.
The other top six places were occupied by Briton John, Leer Nunes, Dwayne Gibbs Jr, Jason Cameron, Eric Sankar and Everal Mundy respectively.