THE rampant Guyana Defence Force (GDF) made their intentions quite clear with a resounding 4-0 victory over upstarts Devcon Victoria Kings when the second half of the 2016-17 STAG Elite League (SEL) got underway at the Camp Ayanganna venue on Sunday.
Already league leaders in the first half of the prestigious tournament, and playing in front of their home fans, GDF sounded a warning to their opponents that they will also be a potent force in the second half of season two.
GDF registered their first goal 23 minutes into the game, which promised much but petered out into a one-sided affair, when Delroy Fraser blasted home past the East Coast Demerara-based goalie.
By the end of the first half, the writing was already on the wall, with the home team going into the break with a comfortable 3-0 lead. Skipper Kelvin Sullivan and Olvis Mitchell had added goals in the 38th and 41st minutes respectively.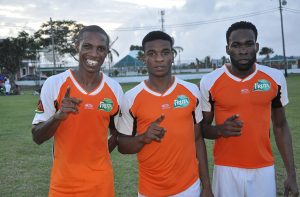 Looking more purposeful on the resumption, Victoria Kings caused some anxious moments in their opponents' camp but the more robust army players withstood the challenge admirably, thereby regaining the ascendancy.
Mitchell, who was enjoying a fine evening, banged in his second goal in the 60th minute much to the delight of the army supporters as GDF soared to 4-0.
Two quick bookings in the 83rd and 85th minutes saw GDF's Jerome Richardson being booted out of the game but this was to no avail as his team prevailed.
The supporting game, featuring Linden's Topp XX and Georgetown's Fruta Conquerors, was deadlocked for 65 minutes without any goals until Eon Alleyne gave the latter a well-deserved lead which seemed to have ignited his team.
The experienced former national forward Anthony 'Awo' Abrams, who came on as a substitute in the 63rd minute, wasted no time in making it 2-0, 14 minutes later with one of his trademark shots to goal.
Not to be outdone, Reshawn Sandiford ensured it was 3-0 with a goal in the second minute of added time, as the Tucville-based Conquerors also started the second half on a victorious note.
Action in the SEL second half continues on Sunday, April 2, at the Buxton ground with what should be a sizzling double-header featuring the home team and Monedderlust FC, while Victoria Kings clash with the Fruta Conquerors in the feature game. Kick-off time for the first encounter is 16:00hrs.
In the meantime, the action switches to the Mackenzie Sports Club ground, Linden for the international friendly between hosts Guyana and Martinique, scheduled for Tuesday, March 28, starting at 20:00hrs.