Several public servants protested in front the Guyana Public Service Union (GPSU) Headquarters on Shiv Chanderpaul Drive today, calling for the removal of the President, Patrick Yarde.
One of the protestors, Jermaine Hermanstine, explained that the leadership of the GPSU has not changed for approximately 30 years and they are of the view that Yarde is too 'comfortable' in his seat as President.
According to the protesters, there has been minimal representation of public servants under Yarde's leadership. They complained about being discriminated against by the union despite paying their dues.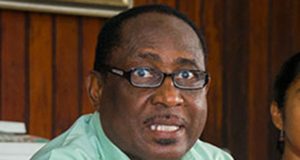 "This has gone unnoticed for too long and it is time we take back our union," said one of the distressed protester.
Persons pointed out that there is lack of transparency within the union as it relates to the executive body of the GPSU. Hermanstine said if their 'peaceful' protest does not work, they will resort to legal actions against Yarde.