IT was a sad day in Tuschen New Housing Scheme, East Bank Essequibo, when four-year-old Ramkaran Mohan, known as "Ram," was laid to rest, five days after he was struck down obliquely opposite his home.
Hundreds flocked the Tuschen house before making their way to the Ruimzeight Cremation Ground, where the grieving family said their final goodbye.
His mother, Anna, repeatedly fainted during the service and had to be rushed to the West Demerara Regional Hospital after she failed to regain consciousness at the cremation site.
It was a sad sight indeed as his grandmother, Bibi Khan, screamed helplessly while his seven-year-old brother clutched the father and looked on.
But even as the parents grapple with the loss of their baby, the alleged perpetrator was released from police custody shortly after the accident and is back on the road.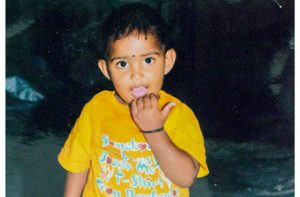 On March 14, at approximately 11: 30hrs, Ram and his seven-year-old brother, Komal, were accompanied by their uncle, Michael Plass, to a shop obliquely opposite their Lot 1088, Tuschen residence, to purchase a ball to play cricket when he was struck by a silver-coloured Toyota Premio bearing the number plate PVV 5084.
The car was driven by a woman identified as Grace Alves, from the same area.
According to Ram's grandmother, Bibi Khan, they were waiting to cross the road and the boy was holding onto his uncle's hand when the car turned from the corner and "hooked" him out of the uncle's hand, dragging him several feet away before coming to a halt.
The toddler was rushed to the Leonora Diagnostic Centre and was subsequently transferred to the West Demerara Regional Hospital, where he succumbed a few hours later.
The female driver and the car were taken into custody, but according to Commander of 'D' Division, Leslie James, the woman was subsequently placed on $20,000 station bail.
When asked if she will be charged, Commander James told the Guyana Chronicle that the police have received conflicting reports as to how the accident occurred. He said two witnesses reported that the child ran into the path of the car while another witness stated otherwise.
Commander James, however, noted that the police will be seeking the advice of the Director of Public Prosecutions (DPP) on the way forward.
Meanwhile, relatives of the victim are not at all happy with the police investigations and are calling for justice to be served. The relatives have alleged that the woman is not a licensed driver and she works the private car as a taxi in the area.
The family questioned the motive of the police after the woman and the car were released. They plan to hire a lawyer to ensure justice is served and are prepared to organise a large protest if the woman is not charged.