-credits discipline and endurance for her achievement
SHE IS THE KIND of young woman, whose demeanor and quiet personality will fool you. Just looking at her you won't believe she packs a mean punch and her kick can knock you senseless in seconds.
Shenese Bobb at age 20 is Guyana's first ever female kick boxing champion. And she won gold in Trinidad and Tobago in the Real Sport Promotion "Ruff N Tuff" which was held March 4, 2017 in the Mixed Martial Arts (MMA) regional category.
Bobb is a trainee at the Felix Austin Police College for the past two months and while undergoing mandatory martial training under the guidance of karate instructor Troy Bobb, she developed a liking for the highly competitive sport.
The Guyana Police Force (GPF) Self-Defense Instructor recognised her willingness to learn and she accepted his offer for training which takes place three and a half hours, five days per week.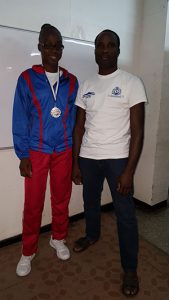 Bobb told the Sunday Chronicle that the intense training is not easy but she knows she is destined for greater things and wanted to push herself to reach a stage where she can successfully compete in the international arena.
The soft-spoken young lady hails from Rosignol, West Coast Berbice and embarked on a career of being a detective and helping to solve crimes.
Bobb will pass out as a Police recruit in two months' time, but is focused on becoming more proficient in her art as she continues to train for her upcoming rematch at Princess Hotel on March 25. She has a rematch against Jenel DeLinge of Tobago whom she stopped in the first round on March 4.
The humble trainee cop says she is not worried since she is under the expert guidance of coach Troy Bobb who, has been in martial arts for the past 36 years.
She related that she was very elated and surprised at the same time when she knocked out her competitor in less than a minute of the 15-minute scheduled match.
She said, "When I won it didn't really hit home that I had created history for Guyana but after I realised what I had achieved I was very pleased with myself."
Bobb journeyed to Trinidad with two other policemen, one of whom won silver after he secured a second place. through sponsorship and today it is no different since she is seeking same for her upcoming rematch at Princess Hotel later this month.
The champion was in high praise for her coach Troy Bobb, who was instrumental in her achieving her goal of being a winner. Because of his guidance and that of Force Training Officer Paul Williams, she felt she was on her way to greater things.
Bobb is no 'girlie' girl. She is the third child of six siblings from a home where she grew up as a 'Tom Boy' with a father, who works in the interior and a mother who is a landscaper.
She is also a track and field athlete, the Guyana Police Force scout for steel pan players and a one-time football referee. She is also an avid football fan.
With her positive outlook and self- motivating attitude Bobb told the Sunday Chronicle that with her win as a champion kick boxer she has gained the respect of her peers.
She said, "My fellow trainees are somewhat indifferent, at least some of them are. I get a few stares and sniggers here and there but no one wants a fight with me because they know what I am capable of."
Bobb stressed the importance of discipline and wants to push herself to the limits in enhancing her career as a kick boxer since she is very fond of the sport which she describes as being 'tough.'
The Trinidad Mixed Martial Arts (MMA) Federation coordinated the event in which Bobb emerged a winner and the MMA in the Caribbean is associated with the International Mixed Martial Arts Federation (IMMAF), which is the international governing body for the sport that also controls the super popular Ultimate Fighting Championship (UFC) which features the most top-ranked fighters in the sport.