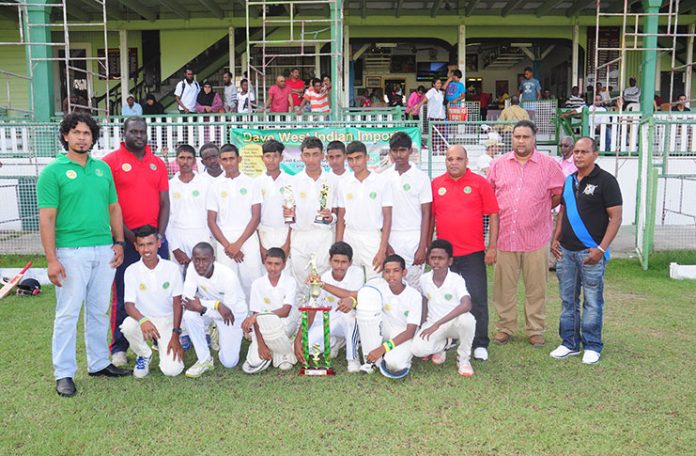 BERBICE dished out a clinical performance, beating Demerara by five wickets in the final, to lift the Guyana Cricket Board Inter-County Under-15 title yesterday at the Georgetown Cricket Club ground.
It was another low-scoring game, and in the run chase Berbice batsmen stuttered early but skipper Marvan Prashad and Asif Amoi shared an unbroken 51-run six-wicket stand to seal victory.
Man-of-the-match and player of the tournament, Prashad remained unbeaten on 38, while Amoi was on 24 when victory was achieved in 39.2 overs.
Earlier, the Berbice bowlers were very disciplined and patient, and in the process they bowled a sparing line that kept the Demerera scoring rate in check;but in truth the hosts batsmen didn't show a huge amount of scoring intent throughout.
A stubborn knock from opener Mahindra Dindyal with 24 was the only substantial contribution to their paltry total.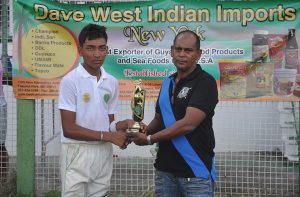 The hosts were undermined by Berbice's four-prong spin attack, with off-spinner Prashad claiming 3-14, to be the chief destroyer. Fellow off-spinner Daniel Dharamdat with 2-13,left-arm spinner Akash Heralall (2-17) and Gourav Ramesh (2-24),all played their part.
After winning the toss and deciding to take first strike,the Demerara batsmen were never comfortable against the spin from the onset, and eventually folded for 90 in 44.5 overs.
Openers,Shoib Shaw and Dindyal had a sluggish start and could only put together 16 runs in 12.3 overs before Shaw was bowled by Heralall for a 38-ball 9.
Chad Shivrattan joined Dindyal and the pair also struggled to score before a mix up saw Shivrattan being run out for four. Thereafter, Dindyal and Andre Seepersaud fared a little better at the crease, adding 30 for the third-wicket.
But the dismissals of Dindyal and Seepersaud (10) in the space of five balls saw little substance and far less stability from the rest of the hosts' batting,which got caught in the web of Berbice's spinners.
Only Brandon Jaikarran (12) of the remaining batsmen reached double figures.
In their pursuit, Berbice lost half their side for just 40 runs. Anthony Williams, Dharamdat and Sarwan Chaitnarine went without scoring to medium pacer Devanand Khemraj and off-spinner Seepersaud respectively, while Ricardo Ramdial was run out for eight. Vikash Subramani was the other batsman dismissed to spinner Daniel Mootoo for 10.
However, Prashad and Amoi then consolidated and played within the situation to ensure Berbice's victory, with 10.4 overs to spare.
Meanwhile, the junior selection panel named a 20-man squad for training ahead of the regional youth tournament. The squad is expected to be released shortly.